The theme of this year's Blue Ridge BLUEPRINT 2021 virtual conference, held October 5-6, was "Resilience Reimagined." It was a great theme because one of the things many companies have learned the hard way over the past 20 months is that their supply chains are not very resilient. They have also learned that they need to question the "way we've always done things" and reimagine their supply chains – reimagine the way they are designed, the way they are managed, and the way they leverage technology to become more resilient, more agile, and more proactive and predictive.
Speaking of reimagining, one area that many companies need to reimagine is the role of price optimization in supply chain management.
That was the main focus of my keynote presentation titled, "Price Optimization & Management: The Next Big Opportunity in Supply Chain Management." Below are some excerpts from my presentation. You can watch the full presentation at Blue Ridge's website, where I share additional data and insights from our Indago supply chain research community as well as a Price Optimization market study we conducted earlier this year.
As far as virtual conferences go, BLUEPRINT 2021 was a success on several fronts: more than 750 attendees, 37 educational and product sessions, and more than 26 hours of content and training. It's impossible for me to summarize the entire conference, but it's sufficient to say that a lot of the content was aligned around Blue Ridge's strategic focus and growth opportunities.
Blue Ridge CEO Jim Byrnes summarized it nicely in his keynote presentation, which echoed his comments from a September 21 press release announcing a strategic investment in the company from Great Hill Partners:
"Since our founding, Blue Ridge has aimed to create a transparent connection between inventory and pricing, helping customers make informed decisions while lowering risk, maximizing profits and improving agility. With Great Hill's investment, we will be able to further penetrate our rapidly growing market and partner with more customers who are demanding our unique capabilities and solutions to manage their supply chains, optimize pricing and drive significant cost savings."
As I commented in my presentation, I believe that as more companies recognize the link between pricing, demand planning, and inventory management, they will view price optimization as a supply chain platform solution – and considering the intense focus on supply chain management today, and the amount of investments companies are making to digitize their supply chains, I believe this will serve as a catalyst for growth for price optimization solutions moving forward.
Price Optimization & Management: The Next Big Opportunity in Supply Chain Management
I'm a Generation X guy and I'm a big fan of 80s New Wave music. And one of my favorite bands is the Pet Shop Boys, and one of my favorite songs by the band is "Opportunities." In particular, I love these lyrics from the song:
Oh, there's a lot of opportunities
If you know when to take them
You know there's a lot of opportunities
If there aren't, you can make them
(Make or break them)
As an industry analyst, I get to speak with a lot of companies, across many different industries. There is a common thread across virtually all companies today: they are looking for ways to drive profitable growth.
Over the years, companies have invested in technology to streamline and automate a variety of business processes. This includes implementing ERP, CRM, Demand Planning, Inventory Management, Transportation Management, and Warehouse Management systems.
After capturing many of the "low hanging fruit" benefits of these solutions, companies are now asking, "Where is the next big opportunity to realize significant business benefits"?
For many companies, the answer is Price Optimization.
What is Price Optimization?
There are lot of definitions, but I like this one by Bain & Company:
Price Optimization (PO) solutions are "mathematical programs that calculate how demand varies at different price levels and then combine that data with information on costs and inventory levels to recommend prices that will improve profits." 
I like this definition because it's not only short and clear, it also highlights the connection between price with demand, costs, inventory levels, and profits.
In other words, it highlights how price is weaved into other aspects of supply chain management, especially demand planning and inventory management.
The biggest mistake a company can make is to view Price Optimization as a point solution. We often talk about the importance of breaking down silos in supply chain management – the silos between business processes and the silos between software applications.
To get the most value from price optimization technology, it cannot exist in a silo – it has to share data and workflows and intelligence (back and forth) with demand planning, inventory management, and other supply chain applications. It also requires greater collaboration between these various functional groups too.
Why is price optimization the next big opportunity in supply chain management?
Well, to quote Michael Marn and Robert Rosiello  from their seminal 1992 Harvard Business Review article titled "Managing Price, Gaining Profit": 
"The fastest and most effective way for a company to realize its maximum profit is to get its pricing right."
Marn and Rosiello looked at data from over 2,400 companies and they found that for companies with average economics "improving unit volume by 1% yields a 3.3% increase in operating profit. But a 1% improvement in price, assuming no loss of volume, increases operating profit by 11%. Improvements in price typically have three to four times the effect on profitability as proportionate increases in volume."
Various other studies have supported these findings over the years. McKinsey & Company, for example, as they highlighted in a September 2019 article, looked at its database of 130 global and publicly traded distributors and they estimated that a 1 percent price increase would yield a 22 percent increase in EBITDA margins, and a 25 percent uplift in stock price.
In short, the benefits of price optimization have been well documented for almost three decades. Unfortunately, relatively few companies have implemented these practices and solutions.
In 2018, Bain & Company conducted a global survey of sales leaders, vice presidents of pricing, and other executives at more than 1,700 companies and they found that only 26% of the surveyed companies were using pricing software.
Similarly, as reported in a January 2020 article by Robert Kugel, Ventana Research reported that "just 23 percent of organizations have adopted advanced analytics techniques for [price and revenue optimization]." The good news is that this was up from just 15% in 2017.
And in December 2020, we asked the members of our Indago supply chain research community if their companies were using price optimization software to set, analyze, and adjust prices over time to improve profitability. Based on the relatively low response rate, it appears that price optimization is not an area of focus, responsibility, or knowledge for most of our members (who are all supply chain and logistics professionals from manufacturing, retail, and distribution companies). That said, of those who responded, the majority (59%) said that their companies are not using price optimization software.
We also asked our Indago community members how they would characterize their company's current approach to pricing. Almost half of the respondents said their approach was only "Slightly advanced" or "Not advanced at all."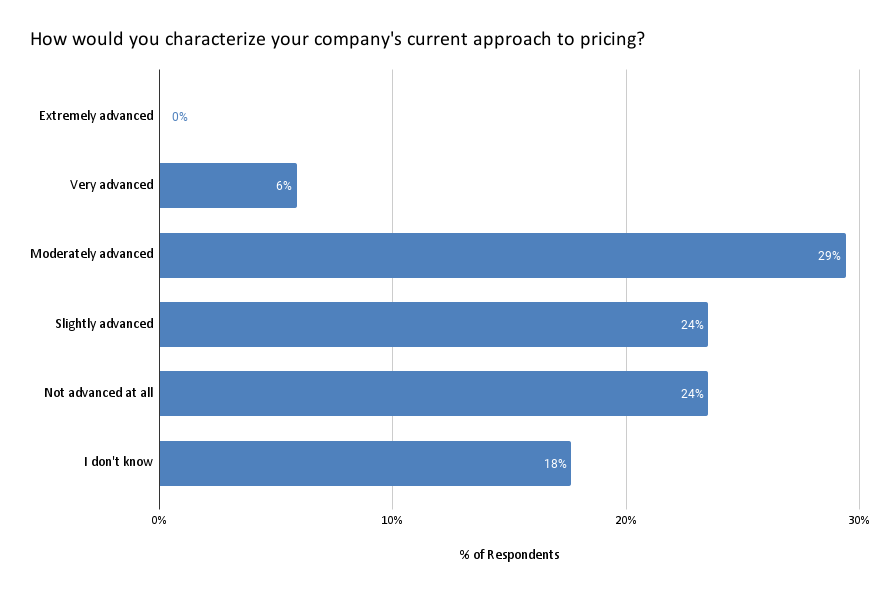 Here are a couple of comments submitted by our members:
"My organization still takes a very seat-of-the-pants approach to pricing. I think we would benefit a great deal from optimization tools."

"Our company has invested millions in software to maximize profitability through strategic pricing. However, efforts continue to be undermined by ground-level employees either not understanding pricing or not believing in the strategy."
So, for those of you in the audience, how would you characterize your company's approach to pricing? Are you also taking a seat-of-the-pants approach? Or maybe you've invested in technology, but from a point solution perspective, and haven't gotten the buy-in and support from others in the organization to fully realize its value.
Whatever the case, the bottom line is that many companies are missing a big opportunity to improve their profitability by not taking a smarter and more organized approach to pricing.
For more data and insights on price optimization, including factors that will drive growth in this software category moving forward, watch the full presentation at Blue Ridge's website.