Editor's Note: The following is an excerpt of a research report published this week, "From Gut Feelings to Data-Driven Decision Making: How to Unlock New Value in Transportation Management." The research, conducted by Adelante SCM and commissioned by Transporeon, discusses why data-driven decision making is becoming more important in transportation and logistics, and how the data and tools (with Transportation Management Platforms serving as the foundation) already exist for companies to get started. Please visit the report page for more information about the research and to download the full report.
Historically, aside from the cultural shift required, one of the biggest challenges to enabling data-driven decision making in transportation has been aggregating data from many disparate sources. In a June 2021 survey of Indago members (a research community of supply chain and logistics practitioners from manufacturing, retail, and distribution companies), 71% of the respondents selected "Data is scattered across many systems" as the biggest factor inhibiting their ability to convert data into actionable insights.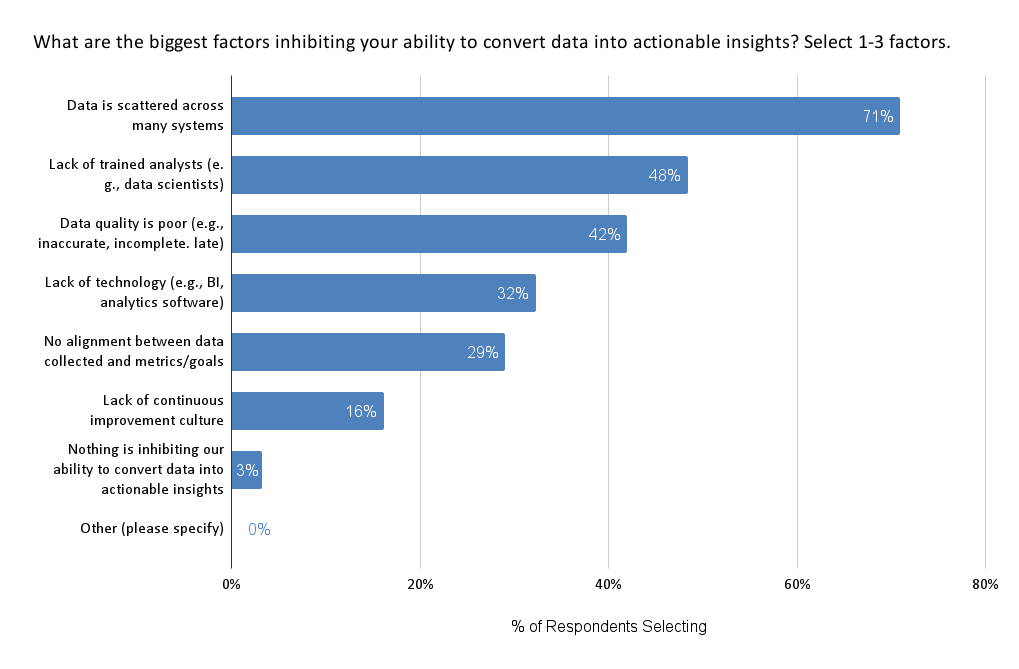 "Supply Chain and Logistics is one of the largest users of data in a company," commented an Indago supply chain executive member. "The data comes from at least a half dozen tools that don't talk to each other which makes compiling and using the data difficult and sometimes a bit suspect."
Yet, when companies are able to overcome that hurdle, transportation tops the list of where to unlock business value. In an October 2019 survey, Indago members were asked, "In what supply chain or logistics areas have you been able to utilize data analytics to implement the quickest change or improvement in your organization?" 72% of the respondents selected Transportation Management.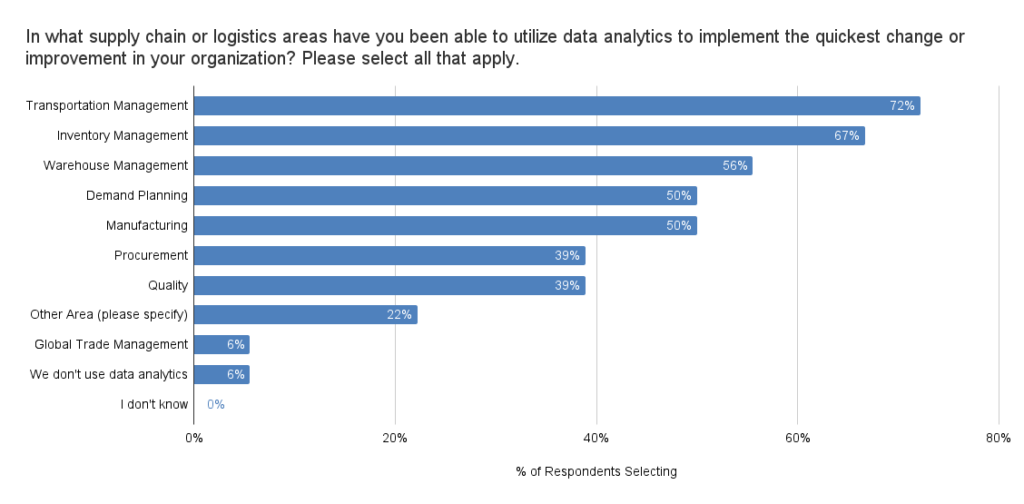 "In transportation we use data analytics to understand pricing and use that data to re-negotiate or change behaviors to lessen the expense," said one Indago respondent. "We also use data analytics to understand carrier performance and we take that data to them as part of our quarterly business reviews (QBRs) to help them improve their operations."
When it comes to transportation data, the primary source for most companies has been their transportation management system (assuming they even have a TMS). However, with traditional on-premise applications, collecting data from many different carriers, logistics service providers, suppliers, and other sources was always a challenge.
Fortunately, as discussed in "Trust the Network: The Way Forward in Achieving Transportation Desired Outcomes," transportation management systems have evolved from being "inside the four walls" applications to becoming the operating systems of large transportation networks in the cloud. Today's transportation management platforms are the business equivalent of Facebook and LinkedIn, industry networks that connect shippers, carriers, logistics service providers, and other stakeholders with each other, enabling them to communicate, collaborate, and execute business processes in more efficient, scalable, and innovative ways.
As MIT researcher Michael Schrage stated in a December 2013 Harvard Business Review post:
"The more users participate [in a network], the more value (and valuable experiences) can quickly be generated. And the more value created, the more users (and innovative uses) materialize.

"That virtuous value cycle simultaneously disrupts and transforms industries worldwide. Value can exponentially increase as costs only marginally grow. This makes the economics of 'network effects' combinatorially compelling."
Among the "value and valuable experiences" created by a network-based transportation management platform is providing companies with a foundation for data-driven decision making.
For some examples and to learn more, please download the research report.