As an engineer by training, I've come across many mathematical formulas, but I hadn't seen this one until a couple of weeks ago when I attended Manhattan Associates's Momentum 2022 conference:
D x V x F > R = ∆

Where:

D: Signifies the degree of dissatisfaction with the current situation.

V: The vision of what can be done and what is possible.

F: A plan of the first concrete steps that can be taken towards materializing the vision.

R: The resistance to change.

∆: Change
Recognize it? It's commonly referred to as "Gleicher's Formula" for change. According to Wikipedia, "the formula was created by David Gleicher while he was working at Arthur D. Little in the early 1960s, and refined by Kathie Dannemiller in the 1980s."
As explained in a Bright Hub PM blog post, "This formula for change suggests that a successful organizational change is possible only when the product of D, V and F is greater than the resistance to change. Since the formula involves the multiplication of the three variables, if any variable is completely missing or is too low, the end result will also be low. This implies that falling short on any one of these variables will make it difficult to get past the resistance."
Highlights of Manhattan's Keynote Presentations
Eddie Capel, Manhattan's president and CEO, used Gleicher's Formula as a framework for his opening keynote presentation, where he made the case (echoing the theme of the conference) that we all need to be "Agents of Change."
Why? Because change is everywhere and ongoing — in the way consumers buy, in the way orders are fulfilled, in the way supply chain networks are designed, in the way risk and sustainability are now factored into decisions, in the way technologies are developed and deployed, and the list goes on.
On the technology side, Sanjeev Siotia, Manhattan's senior vice president and CTO, talked about how "the line between possible and impossible" continues to shift, using the transistor as an example. We've gone from single transistors being 1 to 6 inches tall when they were first invented in the early 1900s to more than 16 billion of them fitting on Apple's M1 chip today.
The line between the possible and impossible is also evident in the enterprise software realm, where we've gone from client/server applications implemented in-house to software-as-a-service solutions deployed in the cloud. However, the way these solutions are architected for cloud deployment has changed significantly over the past 20 years. As I highlighted last October in "Architected For The Cloud: An Important Building Block Of A Modern TMS":
To provide some perspective, when the first software-as-a-service TMS were released, the iPhone and App Store did not exist yet (they were introduced in 2007 and 2008, respectively). Neither did Amazon AWS (2006), Google Cloud (2008), or Microsoft Azure (2010) cloud services. The emergence of smartphones, mobile apps, and cloud services — together with their underlying technologies — have influenced the way many enterprise applications are now designed and architected for cloud deployment.
In Manhattan's case, the company began moving toward a microservices architecture in 2017 when it introduced its Manhattan Active technology platform and Manhattan Active Omni solution. It has since added Manhattan Active WMS and Manhattan Active TMS (among other offerings) to the platform.
Siotia highlighted how the platform now has over 200,000 API endpoints, and how it enables clients like Nike and Gucci to develop their own innovations (see Manhattan Active® Developer, a resource for clients and other developers).
How does this all change what's possible? Brian Kinsella, Manhattan's Senior Vice President, Product Management, framed the answer from two perspectives: unification and assembly.
Unification, for example, is taking a unified approach to the way companies plan, optimize, and execute their transportation, warehouse, and yard management processes. This remains, however, an unfulfilled goal at many companies.
In a survey we conducted with members of our Indago supply chain research community — who are all supply chain and logistics executives from manufacturing, retail, and distribution companies — a large majority of the survey respondents (83%) said their transportation and distribution processes are either "Moderately" (40%), "Slightly" (20%), or "Not Unified/Synchronized at All" (23%); only 3% said they were "Extremely Unified/Synchronized." Of those with "Extremely/Very Unified" processes, 80% of them credited "Our software applications are well integrated" as a key enabler. (See "How Unified Are Your Logistics Processes?" for additional insights from the research).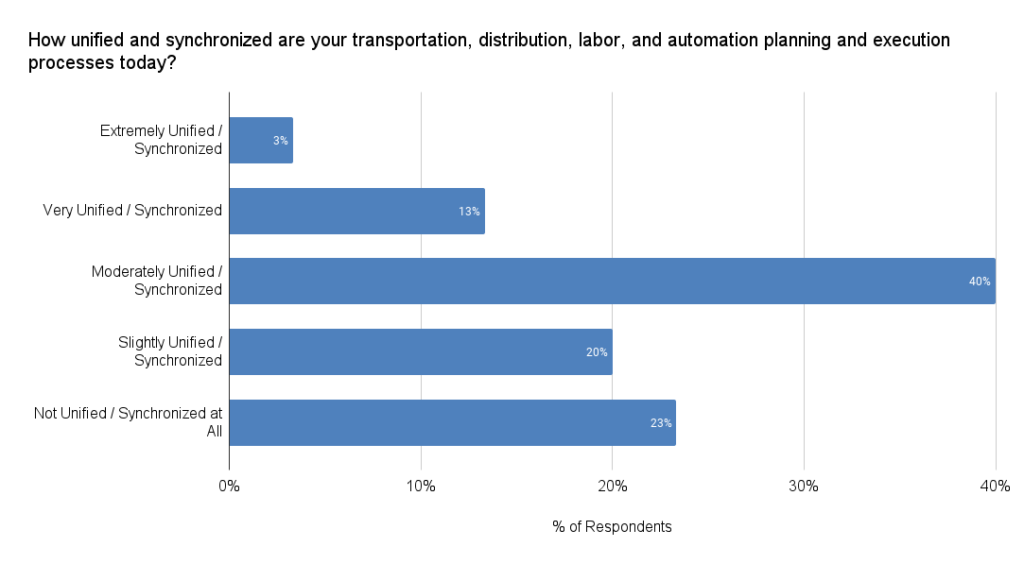 Kinsella shared how leveraging a microservices architecture (and ecosystem partners) helps to make this unification possible, including across inbound and outbound logistics processes.
Assembly goes a step further. It's about assembling capabilities ("services") from Active Omni and Active Supply Chain, for example, to enable differentiated processes — such as Customer Controlled Fulfillment (e.g., allowing a customer to go online and change an order from "pick up at store" to having it delivered to their home instead, or allowing a customer to go online and change the delivery address of an order anytime before it ships).
Manhattan is still in the early stages of making these unification/assembly capabilities possible, but after years of investment in R&D, it has the right architecture to realize them.
Beyond the Agenda
As you might expect, there were many sessions during the two-day conference, including keynotes by Michael Relich, co-CEO of PacSun, and Markus Voss, COO and CIO at DHL Supply Chain. It's impossible for me to summarize all the sessions in a brief blog post. The good news is that Manhattan customers who were not able to attend the in-person event can watch recorded sessions online beginning June 15th (you still have to register at the event website).
One of the best things about attending in-person events are the meetings and conversations that take place in-between the planned agenda sessions. This is where/when some of the best learning occurs.
For example, I had a meeting with a shipper who had many questions about transportation procurement and visibility: How do you best determine how long/how often to have transportation sourcing events? How do you determine the optimal mix between asset-based carriers and brokers given the current volatility in the market? What are the pros and cons of digital freight brokers? How do you get an ROI on freight visibility, particularly on inbound?
I won't go into the details, but it's sufficient to say that the questions themselves shed some insight on what's top of mind for many supply chain and logistics professionals today. Knowing what to do is often not the problem; it's getting over the obstacles in the way (such as lack of data, technology, and support from other stakeholders) that continue to impede action and progress.
I also had a meeting with shippers from Latin America to discuss transportation management system (TMS) trends. Again, I won't go into the details, but when we talk about TMS and the transportation market, it's often from a US or Western Europe perspective. The conversation was a good reminder that although there are many commonalities across countries and regions when it comes to transportation, there are also many differences — in road networks, carrier networks, cost factors, technology adoption, service expectations, regulations, and much more. At the risk of overgeneralizing, I'll say that the business case for TMS in Latin America is arguably still more centered on facilitating and automating execution processes than on planning and optimization.
Manhattan Active TM
The big news at last year's Momentum conference was the release of Manhattan Active Transportation Management, a completely new solution built from the ground up using the microservices architecture that underpins Manhattan's Active technology platform.
There have been four releases of Manhattan Active TM since last Momentum, including enhancements related to providing access to spot rates and capacity; new fleet management capabilities; a simpler and more unified carrier user experience; expanded claims management capabilities; and sustainability capabilities.
Interestingly, considering my comments above, the first Manhattan Active TM go-live customer is Latin America's largest drugstore company, Raia Drogasil, which is based in Brazil. The company received the "TMS Innovation Leader" award "for unifying their distribution and logistics management to achieve unparalleled efficiency and visibility." 
Why Manhattan? The quick answer, aside from meeting functional requirements, is that Raia Drogasil was already a WMS customer and the company is moving to a microservices IT architecture as part of its overall focus on the digitization of healthcare.
The implementation is being done in phases, with the "rapid enablement" phase (focused on a limited volume of orders and carriers) already completed. Considering the size and scope of Raia Drogasil's omnichannel operations (13 distribution centers, 2,530 pharmacies, 4 million pieces dispatched every day, 70% of pharmacies replenished daily, 350 trucks in fleet), this will ultimately be a good case study and proving ground for Manhattan's TMS.
—-
Back to Gleicher's Formula and my overall takeaway from the conference: There will always be resistance to change, but companies that focus on maximizing (D x V x F) will continue to redefine what's possible and pull ahead of the rest.