I believe we're witnessing the birth of a new transportation mode, one that will take many years to develop and mature (but will probably happen sooner than we think), and one that will make our current discussions about driverless cars and same-day delivery sound silly in retrospect.
I wrote that back in February 2013 in "Drones – The Birth Of A New Transportation Mode." Later that same year, on the television news program 60 Minutes, Jeff Bezos, Amazon's founder and CEO at the time, unveiled a new delivery system the company's R&D team had been developing called Amazon Prime Air; the goal of the system was to get packages into customers' hands in 30 minutes or less using unmanned aerial vehicles.
It's been a 9+ year gestation for Amazon Prime Air.
On June 13, Amazon announced that customers in Lockeford, California, will be among the first to receive Prime Air drone deliveries in the U.S.. Here is an excerpt from the announcement:
The promise of drone delivery has often felt like science fiction. We've been working for almost a decade to make it a reality.

The challenge: How do you get items to customers quickly, cost-effectively, and—most importantly—safely, in less than an hour? And how do you do it in a way that can scale? It's relatively easy to use existing technology to fly a light payload a short distance that's within your line of sight, but it's a very different challenge to build a network that can deliver to customers across large communities.
Why has it taken so long? In addition to the regulatory hurdles, there was was technical challenge of creating a sense-and-avoid system, as the company explains below:
The logistics industry is abuzz with all-things drones. But not all drone systems are equal. For example, most drones do not have the capability to sense and avoid other aircraft and obstacles — and it's easy to understand why that could pose problems. Those systems will require visual observers along the route of every flight to help the drones avoid hazards. That type of drone can be deployed relatively quickly, but it limits delivery operations to a small radius.

We're building something different. We've created a sophisticated and industry-leading sense-and-avoid system that will enable operations without visual observers and allow our drone to operate at greater distances while safely and reliably avoiding other aircraft, people, pets, and obstacles.
In November 2020 we asked members of our Indago supply chain research community — who are all supply chain and logistics executives from manufacturing, retail, and distribution companies — "Which of the following transportation modes in development do you believe will gain the most traction and deliver the most business benefits by 2030?"
Our members were almost evenly split, with 50% selecting "Driverless Trucks" and 45% selecting "Drones"; the remaining 5% selected "Delivery Robots." (See "Drones Or Driverless Trucks: Which Will Deliver Most Business Benefits First?" for more on this topic).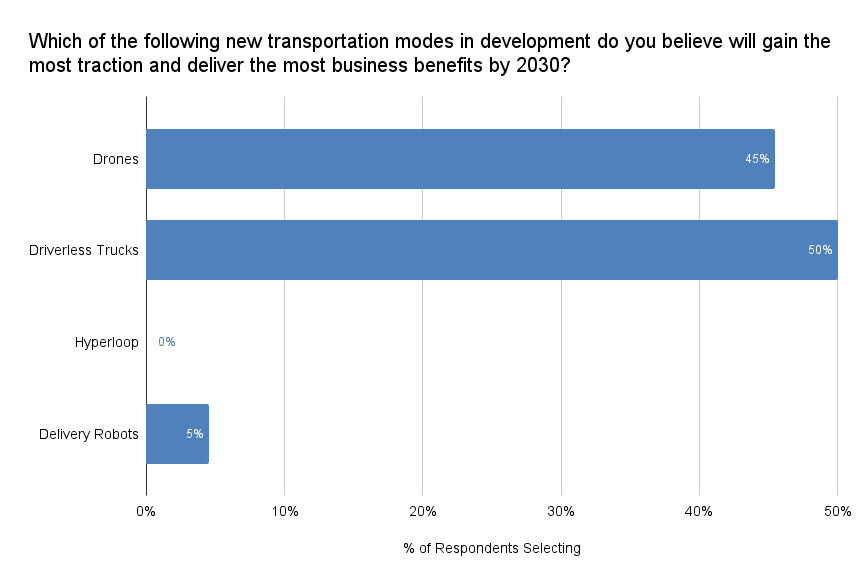 Will the technological advancements made by Amazon change people's votes today and give drones an advantage over driverless trucks moving forward? Hard to say.
It's clear, however, that transportation executives have other priorities at the moment, like how to navigate around surging diesel prices, how to deal with ongoing port closures and congestion, and how to reduce the carbon footprint of their transportation operations (see "Zero Sum: How Walmart Transportation is Working to Reduce Emissions Now and in the Future").
Like new parents with the birth of a child, Amazon plans to "share photos and videos of our progress as we go, and we look forward to continuing to learn as we methodically expand this program to more customers in months and years to come.
"Our journey continues — stay tuned for updates."
Let's hope the terrible twos never come.