Last November, we asked our Indago members, "Which of the following transportation modes in development do you believe will gain the most traction and deliver the most business benefits by 2030?"
Our members were almost evenly split, with 50% selecting "Driverless Trucks" and 45% selecting "Drones" (the remaining 5% selected "Delivery Robots"). Despite the test run reported at the time, "Hyperloop" didn't receive any votes.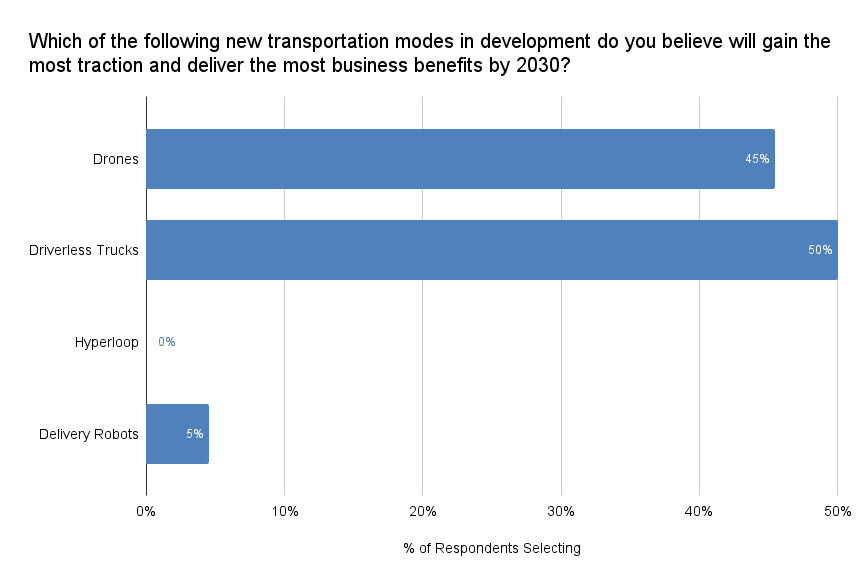 Every week there's some news related to drones and driverless trucks. Last week, for example, J.B. Hunt and Waymo announced that they are collaborating to move freight autonomously in Texas for one of J.B. Hunt's leading customers. Here are some details from the press release:
The test run will use Waymo Via, the company's autonomous Class 8 trucking unit powered by the Waymo Driver, to haul freight between facilities in Houston and Fort Worth, Texas. The transport along Interstate 45 will be completed using Level 4 autonomous driving technology supervised by Waymo autonomous specialists, a commercially licensed driver and a software technician, on board to monitor every aspect of the Waymo Driver's operations throughout the runs.

Through the collaboration, J.B. Hunt and Waymo Via will be exploring how autonomous driving technology can be integrated across fleets and enhance safety and efficiency. The two have worked closely on operational and market studies that explored topics such as best practices for regular maintenance, what future facility layouts will look like, and which lanes are best suited for autonomous driving technology. The trial run will also help J.B. Hunt and Waymo define how they can continue working together long-term.
Also last week, as reported by the Dayton Daily News, "Drone-flown deliveries of groceries will start Wednesday [June 9] in an area within a mile of Kroger's Centerville [Ohio] store, signaling a new era in flight and grocery shopping." Here are some details from the article:
The Kroger Co. has been working with a Monroe company, Drone Express, to deliver groceries via drones, and actual flights responding to customer orders will start happening this week.

The drone can carry only about five pounds worth of items. Pilots will oversee the drones as they fly to customer's homes in the prescribed area around the Marketplace store at 1095 S. Main St.

"Right now, per FAA guidance, we're only flying the drone to deliver within one mile of the store," Erin Rolfes, a spokeswoman for Kroger said.
The first delivery was made last Wednesday as planned, in the rain, although some folks were underwhelmed by it.
In other drone-related news, The Verge reported last month that "UPS and CVS are teaming up to deliver prescription medicine via drone to residents of The Villages retirement community in Florida" using Matternet's M2 drones.
So, will driverless trucks gain traction in the industry faster than drones? I used to think so, but I started to change my mind after listening to Professor Mary "Missy" Cummings speak on "The Future of Artificial Intelligence and Logistics" at the CSCMP EDGE 2017 conference. In short, Dr. Cummings made the case that we are further ahead on the learning and experience curve with drones thanks to their use in the military.
An article by Christopher Mims in the Wall Street Journal last week ("Self-Driving Cars Could Be Decades Away, No Matter What Elon Musk Said") underscores this point:
In contrast to investors and CEOs, academics who study artificial intelligence, systems engineering and autonomous technologies have long said that creating a fully self-driving automobile would take many years, perhaps decades. Now some are going further, saying that despite investments already topping $80 billion, we may never get the self-driving cars we were promised. At least not without major breakthroughs in AI, which almost no one is predicting will arrive anytime soon — or a complete redesign of our cities.
Of course, self-driving cars navigating the streets of a busy city is a different use case than a driverless truck transporting goods on an open highway. While the former is arguably a more complex challenge, there are still hurdles to overcome with driverless trucks.
The WSJ article also highlights the work of Dr. Cummings:
To gauge today's machine-learning systems, [Dr. Cummings] developed a four-level scale of AI sophistication. The simplest kind of thinking starts with skill-based "bottom-up" reasoning. Today's AIs are quite good at things like teaching themselves to stay within lines on a highway. The next step up is rule-based learning and reasoning (i.e., what to do at a stop sign). After that, there's knowledge-based reasoning. (Is it still a stop sign if half of it is covered by a tree branch?) And at the top is expert reasoning: the uniquely human skill of being dropped into a completely novel scenario and applying our knowledge, experience and skills to get out in one piece.

Problems with driverless cars really materialize at that third level. Today's deep-learning algorithms, the elite of the machine-learning variety, aren't able to achieve knowledge-based representation of the world, says Dr. Cummings.
And yet, the quest continues, with more money and more startups. Just last week, "Waabi, founded by AI pioneer and visionary Raquel Urtasun, today launched out of stealth to build the next generation of self-driving technology." According to the press release,:
Waabi's innovative approach unleashes the power of AI to "drive" safely in the real world, bringing the promise of self-driving closer to commercialization than ever before. Waabi also announced today a $83.5 million (USD) Series A financing with backing from best-in-class investors across the technology, logistics and the Canadian innovation ecosystem.
What do you think? Will drones gain the most traction and deliver the most business benefits by 2030 or will it be driverless trucks? Or will both be eclipsed by something else, like hyperloop? Post a comment and share your perspective!