"The logistics industry was built for a world that we no longer live in."
If you had to boil down why the past two years have been so challenging for supply chain and logistics professionals into a single sentence, that would be it.
The quote is by Lior Ron, CEO of Uber Freight, from his keynote address at the Deliver 2022 conference a few weeks ago (September 12-4 in San Antonio, TX). Lior covered many topics in his presentation, some of which he highlighted in a recent blog post too. But the quote above is the one that stuck with me and got the wheels turning in my head (more on this below).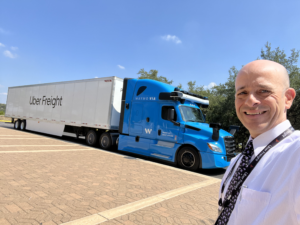 The three-day conference, which had more than 500 attendees, featured a lot of informative sessions on a variety of topics, such as sustainability, autonomous trucks (see nearby photo of me with Waymo truck), cross-border trade, new products, and transportation market updates/forecasts. I was one of the speakers too. My session was on "How to Sleep in a Supply Chain Storm: Addressing the Blind Spots in Global Supply Chain Visibility," where I shared some insights from our Indago supply chain research community and recommendations from a blog post I wrote earlier this year.
There were plenty of highlights from the conference, too many to cover them all here. I will come back to some of the conference topics in future posts — or better yet, get some of the speakers to come on Talking Logistics to share their insights and advice with our audience.
Today, I want to focus on two things briefly: Lior's quote above and why Uber Freight (and others) don't call themselves third-party logistics providers (3PLs) anymore.
A World We No Longer Live In
Remember when "Please allow 4-6 weeks for delivery" was the standard? When people ordered goods by mail or telephone (when they couldn't find it at a store first)?
That was the world we lived in back in 1997. Twenty five years ago might seem like a long time, but it really isn't.
The world we live in today, especially from a supply chain and logistics perspective, is vastly different:
Supply chains are more global and distributed.
E-commerce and direct-to-consumer delivery have transformed distribution networks and processes.
Cloud computing, mobile devices, software-as-a-service, robots, machine learning, and many other technologies have been introduced and adopted.
There are a myriad of new risks and regulations (such as cyber attacks, tariffs, ESG rules, and trade sanctions) that companies must factor into their supply chain strategies, networks, and practices.
This relatively rapid change is forcing companies to transform their supply chain networks to adequately meet these more demanding challenges and opportunities. For example, as reported in a 2018 Wall Street Journal article by Sharon Terlep:
P&G is undertaking "a multibillion-dollar effort to remake an antiquated and inefficient network of factories, warehouses and offices into a new model that gets goods to stores more quickly. P&G has consolidated hundreds of offices and warehouses across North America and set up six so-called mixing centers, where computer algorithms work with robots and humans to load trucks with the optimal mix of products to ship to retailers. Once complete, P&G said its new supply chain will enable 80% of U.S. production to reach stores within 24 hours."
Target is another example, as reported by Jennifer Smith in a 2018 Wall Street Journal article:
"Target is testing a new distribution strategy aimed at speeding up its restocking and making the retailer more nimble at stores and online. The aim is to pare what Target calls its replenishment cycle from days to hours and reduce inventory at stores, especially at the retailer's new small-format stores and locations in denser urban areas. The approach, now in pilot mode at a warehouse in Perth Amboy, N.J., also uses the same pool of inventory to replenish stores and fulfill online orders, a departure from Target's existing supply chain."
2018 almost feels like a century ago considering what's happened since the COVID-19 pandemic and its ripple effects. Simply put, the world of 2018 is no longer the world we live in today either.
If companies like P&G, Target, and many others have been transforming their supply chain networks to better align with the realities of the world today and tomorrow, then shouldn't the logistics industry transform too?
The answer, of course, is yes. And it's been happening.
As I've been writing about for several years, the business models of logistics service providers, technology companies, and consulting firms continue to converge.
And this convergence is leading to new business models, new value propositions, and new ways for industry stakeholders to work together.
Uber Freight, especially after its acquisition of Transplace (a Talking Logistics sponsor), is one example of this convergence in action. But in an industry fixated with three-letter acronyms like 3PL and TMS, what do we call them?
This brings me to my second thought.
What's In a Name?
Prior to its acquisition by Uber Freight, Transplace's old tagline was "The 3PL and Technology Company."
(Note, as of October 1, 2022, the Transplace brand is no longer being used. The company is now officially together under one name and website, Uber Freight. However, its managed transportation services and digital brokerage solutions will continue to operate separately from one another.)
What is Uber Freight?
When the acquisition was first announced in July 2021, I wrote the following:
Uber Freight acquiring Transplace seems like a "digital freight broker" acquiring a "managed transportation services" provider. But for me, that is an outdated and myopic view. What I see is two logistics networks and technology platforms coming together to enable broader and more powerful network effects.

Is a new type of supply chain and logistics solution provider emerging? I believe so. I don't know what to call them, but maybe "Network Effects Providers"?
What is Uber Freight today? It is a "logistics platform and partner [emphasis mine] built to help shippers and carriers stay ahead in a rapidly evolving world." That is how Lior Ron describes the unified company in a recent blog post. He adds:
"Our newly combined organization brings Uber Freight and Transplace products and services together under the new Uber Freight Platform, a first-of-its-kind logistics solution and partner that unlocks unprecedented supply chain reliability, resiliency and optimization. Backed by market-leading technology, our offerings for shippers now span across digital brokerage, transportation management systems, and fully managed transportation and logistics solutions, as well as carrier applications and drop freight programs."
It's a platform and partner, not a 3PL or technology company.
Why not a 3PL? As I have argued in the past, the traditional definition of "3PL" is stale and limited. It is a reflection of the world we used to live in. Not surprising, many companies that used to call themselves 3PLs in the past are now abandoning the term when defining themselves today.
Why not a technology company? Because software (which is usually equated with technology) is not enough. As I commented in that July 2021 post, Marc Andreessen's famous quote that "Software is eating the world" needs to get updated. Today, it is more accurate to say that "Software and networks are eating the world" — especially in the supply chain and logistics world.
My proposed name of "Network Effects Provider" has been simplified by the industry to just Platform.
And when talking about platforms, scale and scope matter. In Uber Freight's case, here are some of the platform stats the company highlights:
135K+ carriers
1.7 million drivers
8K+ customers (plus 280 customers using the TMS)
2+ million facility ratings
$17 billion freight under management
11 million shipments per year managed on TMS across all modes
70 million ETA calculations per year with over 3 million "at risk" ETAs
Why are logistics platforms better aligned to address the challenges and opportunities of the world we live in (and heading toward) than the way we've always done it?
It's a good question, one that I will unpack in future posts.
The short answer is this: we have to do something different because "the way we've always done it" still results in a lot of waste and inefficiency in the industry (e.g., empty miles, driver detention). And if companies are truly serious about achieving their sustainability objectives, they can't get there alone. The industry has to start "walking the talk" on collaboration, which means breaking down the silos between trading partners, business processes, and applications. Platforms are the operating system for supply chain and logistics collaboration.