"We need to know what is going on with sheep."
So wrote the 9-year old daughter of former FCC Chairman Ajit Pai in her notebook, according to a tweet posted by Pai.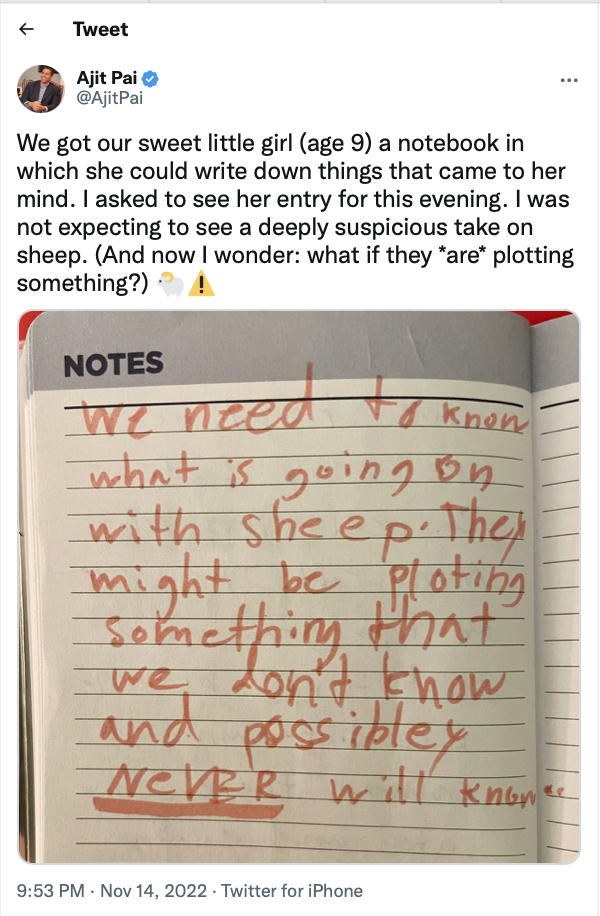 Then comes this story from China, as reported by The Daily Mail, about "a flock of sheep [that] has been caught walking round in a circle for a whole twelve days without stopping…The perplexing spectacle has left people shocked and confused as they try to make sense of the behavior in the viral clip."
I think Pai's daughter is right: These sheep might be plotting something.
If pigs get in on the action, look out because we humans might get run off the farm.
Moving on, here's the supply chain and logistics news that caught my attention this week:
How Are Those Export Controls Working?
As reported by Ian Talley in the Wall Street Journal, "New intelligence collected from downed Iranian drones in Ukraine shows that a majority of the aircrafts' parts are manufactured by companies in the U.S., Europe and other allied nations…The documentation of Western parts shows how Tehran has been arming itself and its allies with powerful new weaponry despite being the target of one of the most comprehensive sanction regimes in modern history."
About three quarters of the parts are American made, according to Ukrainian intelligence estimates. One of the suppliers mentioned in the article is Arizona-based Microchip Technology Inc. Here's an excerpt from the article:
Brian Thorsen, a spokesman for Microchip Technology, said the firm "takes care to maintain supply-chain integrity," which includes screening clients. He also said that besides having more than 120,000 customers in the industrial, aerospace, defense and other sectors, third-party distributors also sell its products around the world.
I've written many times about how companies need to map their supply chain, with emphasis on obtaining more detailed information about their supplier base, especially beyond Tier 1 suppliers. Well, it looks like there are many black holes at the customer end of the supply chain too.
Who are your n-tier customers? This is perhaps a more difficult question to answer than on the supplier side.
Add this to the list of things the scope of supply chain visibility solutions need to include.
The sad truth, however, is that when bad actors want to get their hands on something, they will always find a way to get it, no matter how many laws and layers of red tape you add.
Sparrows and Pickles: Robots in the News
Amazon recently unveiled its "Sparrow" robot, which uses computer vision and artificial intelligence to pick a variety of products of different shapes and sizes — like "a board game, a bottle of vitamins and a set of sheets — all the kinds of items that might flow through one of the company's warehouses," Annie Palmer writes in CNBC. Here's more from her article:
Suction cups attached to the surface of the robot allow it to firmly grasp items. Previous iterations of robotic arms have been able to pick up boxes, which are generally uniform in their shape but might vary in size. But Sparrow is capable of handling items with varying curvature and size, said Jason Messinger, principal technical product manager of robotic manipulation at Amazon Robotics, in a demonstration.
Check out Sparrow in action in this video:
In other robot news, TechCrunch reported that Attabotics, which "builds densely packed vertical storage structures that utilize robots and AI to find and fetch items," raised $71.7 million in Series C-1 funding. TechCrunch also reported that Pickle Robot Company, which makes truck-unloading robots, raised $26 million in Series A funding.
As quoted in the TechCrunch article by Brian Heater, Attabotics founder and CEO Scott Gravelle says that "Amazon remains the best member of our business development team, as companies go look for alternatives and look for ways to stay competitive. Amazon has been setting customer expectations in North America for years. They're the benchmark."
I'll repeat what I said back in January: Whether it is driven by a tightening labor supply or a need to cost-effectively scale operations, companies and logistics service providers will almost certainly continue to implement robots and other types of warehouse automation technology in the years ahead. The question for most companies is not if to implement these technologies, but when.
Not Surprising: Microsoft Ran Its Supply Chain Operations Using Excel Spreadsheets
This past Wednesday, Microsoft held its "Supply Chain Reimagined" virtual event to promote the launch of its Microsoft Supply Chain Platform. (There's that word again, platform, which I wrote about this week too). During the opening session, Panos Panay, Executive VP, Chief Product Officer at Microsoft, said that until about 5 years ago, the company was running its supply chain operations using Excel spreadsheets.
Surprised? You shouldn't be, since Excel has always been the champ of supply chain apps, even among multi-billion dollar companies.
Fast forward to today, Microsoft has moved from local applications to the cloud, and it uses 15 Azure products, has a data lake bigger than Lake Michigan, and leverages machine learning and AI to power its very global and complex supply chain operations.
And now Microsoft wants to help you move up the supply chain digital transformation curve too.
Here's a short video highlighting the Microsoft Supply Chain Platform:
There's too much to unpack here, so I'll share more thoughts about it in a future post. But I want to focus on one aspect of the platform, as shown in the video and described as follows in the blog post:
"With secure, built-in Teams integration, customers can mitigate supply constraints by collaborating with external suppliers in real time to secure new supply sources, troubleshoot transportation issues and communicate up and downstream impacts based on changes."
This isn't as sexy or as attention-grabbing as machine learning, AI, and optimization capabilities, but I believe it can deliver significant business benefits.
Way back in the Dark Ages of 2012, I wrote a post titled, "Want A Fast-Response Supply Chain? Facilitate People-To-People Communication." Here's what I wrote at the time:
In many cases, the quickest way to resolving a problem or addressing an exception — to create a more responsive supply chain — is to facilitate and scale people-to-people communication instead of integrating more computers to each other.
And four years earlier in another post ("Facebook in Supply Chain Management"), I wrote the following:
Instead of finding and connecting with friends [using social networking tools], we'll be finding and connecting with suppliers, customers, carriers, logistics service providers, distributors, and others involved in our daily work lives. And when I say connect, I don't mean in an EDI sort of way, where one computer sends digitized information to another computer; I'm talking about human connections, where one person establishes and maintains a relationship with another person. With so much technology around us, enabling "lights out" and "hands free" processing, it's easy to forget that human relationships remain the life and blood of any business.
I also revisited this topic in "Facebook For Supply Chain Communication And Collaboration?" (August 2014).
Will Microsoft lead the way in making people-to-people communication an integral component of supply chain management platforms? Better late than never.
And with that, have a happy weekend!
Song of the Week: "20" by Air Traffic Controller