We all know the saying: the more things change, the more they stay the same. Every December for the past four years, we have asked members of our Indago supply chain research community — who are all supply chain and logistics professionals from manufacturing, retail, and distribution companies — "What is the likelihood of the following things staying the same in the coming year?"
The first time we asked that question was in December 2019, a few months before the COVID-19 pandemic hit the world. We're still dealing with the pandemic's aftermath today. Is there a difference between how Indago members answered this question in 2019 vs. 2022?
At least within our research community, the results suggest that companies have made improvements in several areas.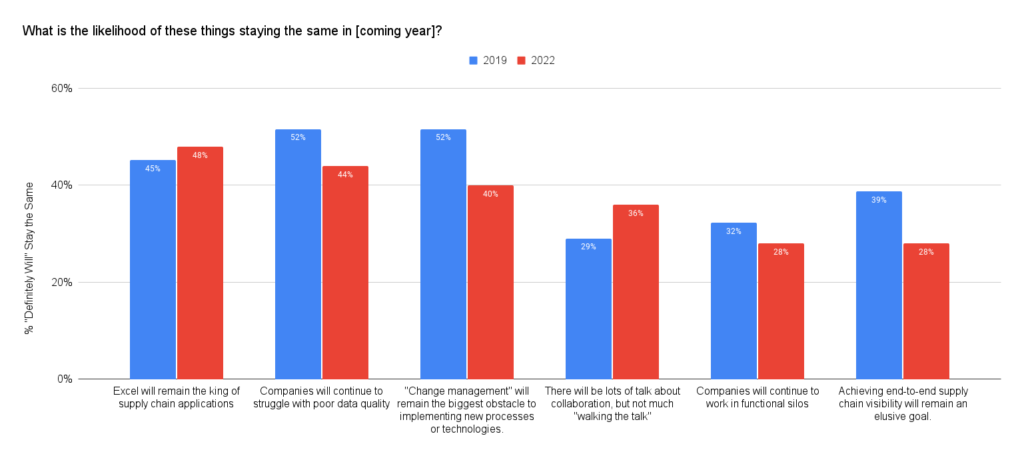 In 2019, for example, 52% of the respondents said that "Companies will continue to struggle with poor data quality" will definitely stay the same in the coming year. This dropped to 44% in 2022.
Similarly, 39% of the respondents in 2019 said that "Achieving end-to-end supply chain visibility will remain an elusive goal" will definitely stay the same in the coming year compared to 28% who said the same in 2022. Perhaps this is due to increased investments in supply chain visibility solutions over the past few years.
Another drop between 2019 and 2022 was in the percentage of respondents who said "Change management will remain the biggest obstacle to implementing new processes or technologies" as definitely staying the same in the coming year (52% in 2019 vs. 40% in 2022). Maybe this is one of the very few positive outcomes of the pandemic: the realization by companies that "the old ways of doing things" in supply chain management are no longer viable.
On the flip side, however, almost half of our respondents (48%) expect Excel will definitely remain king of supply chain apps in the coming year compared to 45% who said the same in 2019. As I've said before, Excel is like a cockroach that refuses to die despite decades of software innovation.
More concerning, however, is the increase in respondents who said "There will be lots of talk about collaboration, but not much 'walking the talk'" as definitely staying the same in 2023 (29% in 2019 vs. 36% in 2022). I firmly believe that collaboration is no longer an option; it is imperative to effectively address the supply chain and logistics challenges and opportunities of today and tomorrow. The majority of our Indago members believe this too, based on the results of another survey we conducted in October 2022. It seems, however, that collaboration is one area where resistance to change remains strong.
What will stay the same in 2023? Do you agree with our Indago members? Post a comment and share your perspective!
Why Join Indago?
There are many reasons to join Indago, but here is the biggest one that differentiates us from other research organizations: your participation helps to make a difference in people's lives.
To date, we have donated over $16,000 to various charities, including JDRF, American Logistics Aid Network, American Cancer Society, Feeding America, and Make-A-Wish.
That is the meaning behind our tagline: "Be Uncommon. Research with Purpose."
If you're a supply chain or logistics practitioner from a manufacturing, retail, or distribution company — and you're interested in learning from your peers — I encourage you to learn more about Indago and join our research community. It is confidential, there is no cost to join and the time commitment is minimal (2-4 minutes per week) — plus your participation will help support charitable causes that make a difference in people's lives.