When I was a kid, I used to eat mayonnaise on Wonder Bread sandwiches.
That's it. Just mayonnaise, nothing else between the bread.
I loved those sandwiches.
I certainly enjoyed them more than ham and cheese sandwiches.
Whenever we would go on school field trips, they would serve us a boxed lunch, and inside was always a ham and cheese sandwich. "Every kid likes them," must have been the thinking behind making ham and cheese the standard boxed lunch. But I detested them. In fact, they made me vomit. Literally.
I would peel away the ham, pull away the cheese, bite open the mayonnaise packet, and make myself a mayonnaise sandwich instead.
It's been decades since I've had one, but I'm craving a mayonnaise sandwich today.
Go wonder.
—
In this week's supply and logistics news:
Plenty of Toilet Paper, But Not Enough Cement
"The supply chain woes that sent costs soaring and spurred shortages of everything from toilet paper to passenger cars are easing for retail-focused industries, but remain stubbornly persistent in important growth sectors like autos, machinery, defense and non-residential construction," reports Lisa Baertlein in Reuters.
In short, after three years, some B2B industries are still experiencing "long Covid" symptoms.
Safety First (After Hitting Other Metrics)
When I worked at Motorola, the boxes of semiconductor chips we shipped to customers had "Quality Means the World to Us" printed on their sides. But when missing a shipment meant potentially shutting down a customer's automotive plant, which would cost $1 million per day, quality took a back seat to "make sure the product ships today."
Safety is also first for many companies, except when it really isn't.
"In the world of railroading, keeping the trains moving is paramount, and Norfolk Southern Corp. has little tolerance for late departures," report Esther Fung, Kris Maher, and Paul Berger in the Wall Street Journal. According to the article:
Supervisors can be penalized for trains that are ready to leave but instead sit in rail yards, according to current and former employees of the Atlanta-based railroad. Train inspection time frames are tight. Employees who seek more-stringent reviews of rail equipment or slow down transport can face discipline.

Scott Wilcox, a sixth-generation railroader who is retired from Norfolk Southern, said its railcar inspectors used to have five to eight minutes to check a car's wheels and brakes for problems like leaky bearings or damaged components. Now they often have between 30 seconds and a minute, he said.
It's an inconvenient truth: many companies talk about safety and/or quality being their first priority, but not all of them practice what they preach. Getting the product shipped, getting the trains moving, making this quarter's financial targets are often the real top priorities.
Parcel Growth Catches Its Breath (But Still Ahead of Pre-Pandemic Projections)
"Coming off two-years of pandemic-fueled growth, parcel volumes decreased 2% in 2022, but remain on a trajectory that far outpaces predictions made prior to the pandemic," according to Pitney Bowes and its Pitney Bowes Parcel Shipping Index. Here are more details from the press release:
US parcel volume declined two percent in 2022, with parcel volume reaching 21.2 billion in 2022, down from 21.7 billion in 2021. Carrier revenues exceeded all previous years' figures totaling $198 billion, an increase of 6.5 percent from $186 billion in 2021. Pitney Bowes forecasts US parcel volume to most likely reach 28 billion by 2028, with a 5 percent CAGR from 2023 – 2028.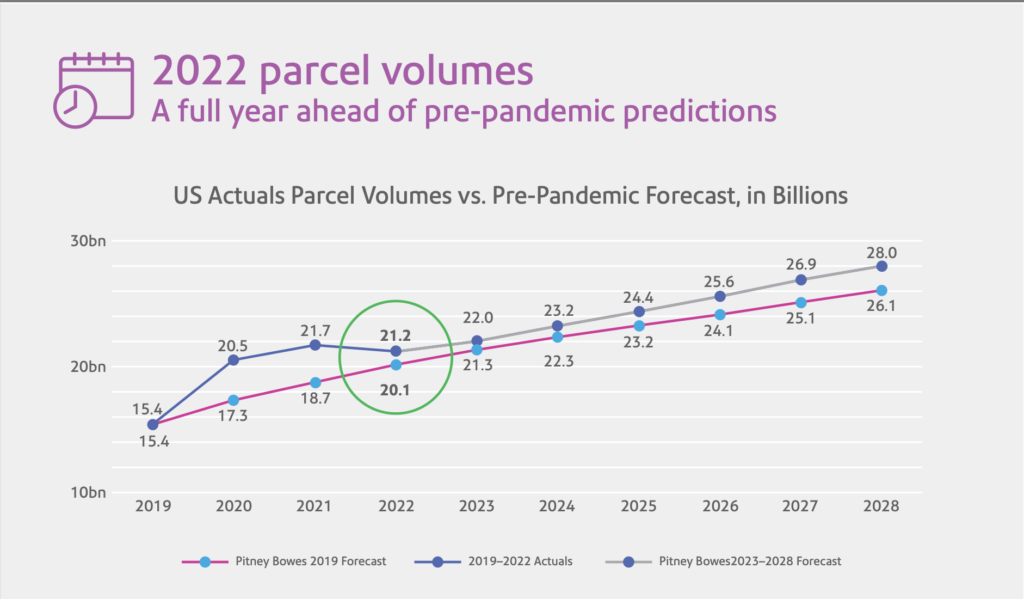 It's interesting to note that although parcel volumes declined year-over-year at USPS (-3.2% YoY), FedEx (-4.8% YoY), UPS (-2.5% YoY), and Amazon Logistics (-0.2% YoY), it increased 25% for other parcel carriers. This is not surprising if you watched our December 2020 Talking Logistics episode with Todd Benge from Transportation Insight where he predicted that "we'll see regional carriers gain strength and traction in [2021 and beyond], and that we'll see a number of startups enter the parcel delivery market too."
We've talked about this in other episodes and commentaries too, such as:
And with that, I'm going to make myself a mayonnaise sandwich. Have a happy weekend!
Song of the Week: "Tropic Morning News" by The National