Editor's Note: The following is an excerpt of "Enhance Outbound Performance with Better Inbound Logistics," a report by Adrian Gonzalez published by Manhattan Associates. The report highlights results from a survey conducted with members of Indago's supply chain research community on the opportunities that exist to improve inbound logistics operations.
Considering that customers are at the tail end of the outbound supply chain, it's not surprising that it generally gets a bit more attention than the inbound side. But the fact is that supply chains are an interconnected system, so what happens on the inbound side matters on the outbound side and ultimately impacts customers too.
How would you rate your overall inbound logistics processes?
We asked members of our Indago supply chain research community — who are all supply chain and logistics executives from manufacturing, retail, and distribution companies — that question in a recent survey.
More than half of our Indago member respondents (55%) rated their inbound logistics processes as "Average" (41%) or "Poor" (14%); only 5% rated them as "Excellent."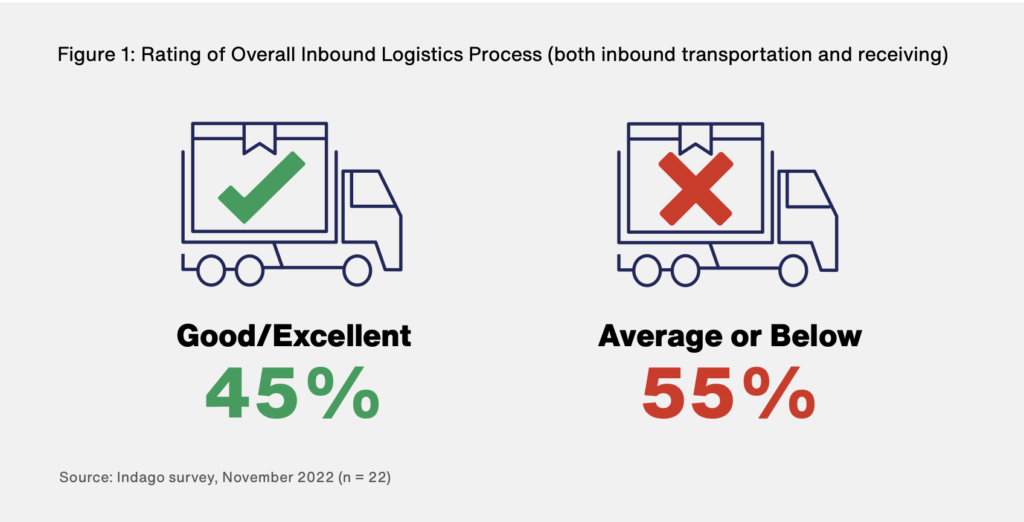 "The biggest impediment from my experience is the lack of integration between transportation, warehousing, and yard management," said one Indago supply chain executive. "If we had a more integrated non-siloed platform to handle the entire lifecycle of an inbound shipment from when status is marked as 'Ready to Book' by our supplier until receipt of goods by our 3PL that would change our world drastically."
We also asked our Indago members, "What inbound capabilities are you currently lacking that you believe are having the greatest negative impact on your operations?" and "What actions, if any, do you plan to take in the next 12 months to improve your inbound logistics operations?"
Download the report for all the survey results, plus analysis and recommendations.
Join Indago
There are many reasons to join Indago, but here is the biggest one that differentiates us from other research organizations: your participation helps to make a difference in people's lives.
To date, we have donated over $17,500 to various charities, including JDRF, American Logistics Aid Network, American Cancer Society, Feeding America, and Make-A-Wish.
That is the meaning behind our tagline: "Be Uncommon. Research with Purpose."
If you're a supply chain or logistics practitioner from a manufacturing, retail, or distribution company — and you're interested in learning from your peers — I encourage you to learn more about Indago and join our research community. It is confidential, there is no cost to join and the time commitment is minimal (2-4 minutes per week) — plus your participation will help support charitable causes that make a difference in people's lives.