​​Every Friday on Talking Logistics I share news headlines related to supply chain and logistics. What if I fed those news headlines into a generative AI engine to create images? What would they look like?
For the past two weeks, SAP (a Talking Logistics sponsor) has been using AI and a human artist "to turn the day's biggest business and technology stories into one image that represents what you need to Be Ready for on that day." You can see all the images created at the "Be Ready" website. Here is my favorite one, generated from stories about supply chains quiet quitting, floating homes coming, new VPN ransomware, and baristas unionizing.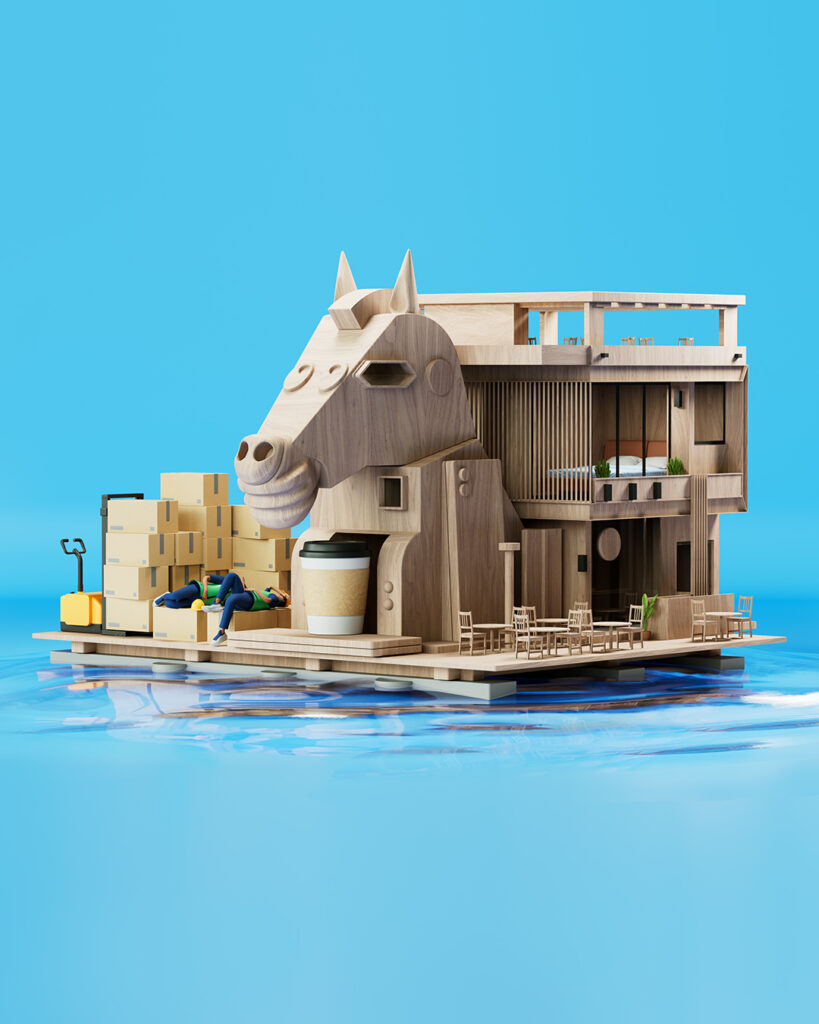 Sure, this is a fun and creative example of human-AI collaboration, but how do you go from creating art to delivering business value, specifically in supply chain management?
Here is one opportunity: feeding a generative AI engine with supply chain data to help companies generate visual maps of their supply chain.
What is Supply Chain Mapping? It's knowing and representing graphically where the manufacturing/production facilities of your suppliers (and their suppliers) are physically located, and which parts or materials are manufactured/produced at each location.
Supply Chain Mapping is a key component of supply chain risk management, and as the authors of Hidden Suppliers Can Make or Break Your Operations (Harvard Business Review, May 2015) state, "With the size and complexity of supply chains soaring, a daunting challenge is confronting companies: identifying the critical nodes hidden within the vast expanse of their supply networks."
Supply chain mapping takes time, money, and resources to do it right. Unfortunately, many companies lack all three (as well as leadership support), which is why they haven't done it yet.
In a March 2020 survey we conducted with members of our Indago supply chain research community — who are all supply chain and logistics executives from leading manufacturing, retail, and distribution companies — 91% of our members said they know where ALL or MOST of their Tier 1 supplier facilities are located. However, only 17% said they know where ALL or MOST of their Tier 3 supplier facilities are located.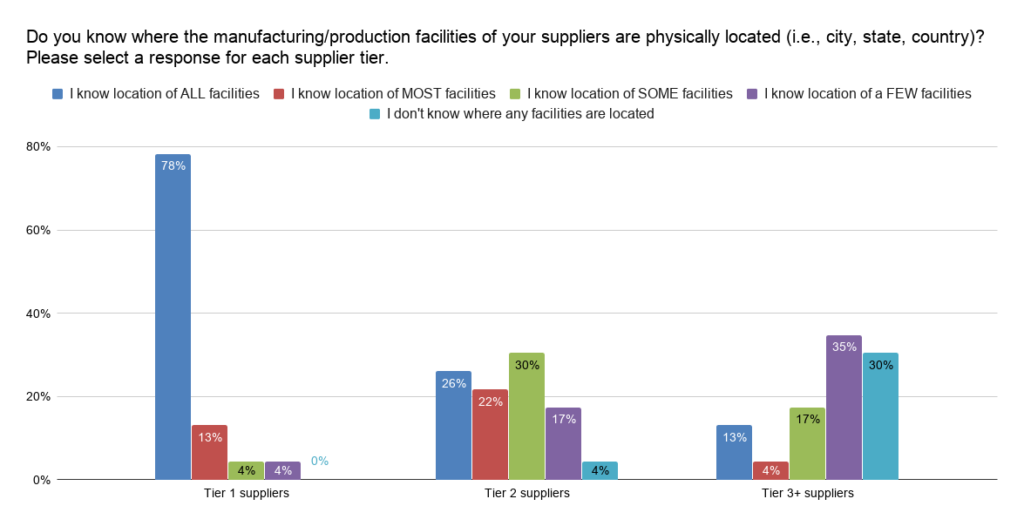 Similarly, when it comes to knowing which parts or materials are produced at each supplier facility, the best visibility is with Tier 1 suppliers (61% know what is produced at ALL Tier 1 facilities compared to just 9% that know what is produced at ALL Tier 3 facilities).

This lack of visibility beyond Tier 1 suppliers not only exposes companies to greater supply chain risks, it also hinders their ability to measure and manage their Scope 3 greenhouse gas emissions and contributes to ongoing issues related to forced labor in supply chains.
What if, however, you embed generative AI capabilities within a business network?
Business networks bring together a large community of trading partners with cloud-based software applications. They enable more timely, accurate, and complete visibility to purchase orders, shipments, inventory, deliveries, invoices, status updates, and many other supply chain processes and events. This enhanced visibility is enabled, in part, by making it easier for "the long tail" of small suppliers, customers, logistics service providers, and other trading partners to connect and transact electronically (using APIs, web services, and mobile devices, for example) instead of relying on emailed spreadsheets and faxes.
At the SAP Sapphire conference last week, for example, SAP announced that it is creating industry-specific networks, focused first on Consumer Products, High Tech, Industrial Manufacturing, and Life Sciences. Across these four industries, there are already more than 800K trading partners on the network processing over $700B in annual commerce.
So, instead of news headlines, what if you fed a generative AI engine with data from purchase orders, advance ship notices, invoices, bills of lading, status updates, proof of deliveries, and other transactions flowing between trading partners on a business network? Could it generate a graphical supply chain map for you?
I believe so.
The map wouldn't be perfect or complete; it would likely require a supply chain analyst to verify and fine-tune it, just like a human artist was needed to finalize the SAP images. But the AI engine would certainly reduce the time, cost, and effort required to create the map. And since supply chain networks are continuously changing, the generative AI engine (with the analyst's help) would continuously update the map, so the benefits would be ongoing.
Are we there yet? No, but that is part of the future of AI and business networks, and to paraphrase the great Ferris Bueller, "The future moves pretty fast. If you don't stop and look around once in a while, you could miss it."
Don't miss the future. Be ready for it.