During 2020 and 2021, most companies were focused on managing the disruptions caused by the Covid pandemic. In 2022, having a bit more room to breathe, companies started to reflect on the lessons learned from the previous two years (e.g., we need to make our supply chains more resilient). This year, it seems like companies started focusing on the future again — that is, on the emerging trends and technologies that, when coupled with the lessons learned from the past three years, will transform the supply chain and logistics industry in the years ahead.
I shared this observation during my keynote presentation ("Positioning Your Supply Chain and Logistics Operations for Success: Important Trends and Actions to Consider") at SAP Logistics Info Days 2023 last month. There were more than 150 customers, prospects, and partners at the two-day event held at SAP's Newtown, PA office, and the agenda featured several customer presentations from Blue Diamond Growers, Great Lakes Cheese, Composites One, Asian Paints, and others.
The agenda also highlighted many of the transformational trends and themes that I spoke about in my presentation, such as AI, robotics, sustainability, labor constraints, and business networks.
It's impossible for me to go into the details of every presentation here, but below I share some highlights related to AI, robotics, and business networks.
Artificial Intelligence: Lots of Innovation, Lots of Questions Too
Artificial Intelligence is not new, but it went super mainstream this past year, due in large part to the public introduction of ChatGPT last November. Just two months after its release, ChatGPT had an estimated 100 million monthly users, making it the fastest-growing consumer application in history.
In his presentation highlighting SAP's AI strategy, Jared P. Coyle, Ph.D. said that companies are going to consume AI in one of three ways:
Embedded in vendor's solutions
Bolt-on to vendor's solutions
Build their own AI + GenAI on general purpose AI platforms
SAP's AI strategy includes all three use cases. In July 2023, for example, the company announced that it was making strategic direct investments in three generative AI companies: Aleph Alpha GmbH, Anthropic PBC and Cohere. And SAP has AI-related partnerships with Microsoft, Google Cloud, IBM, and others.
In the Embedded use case, the company announced Joule this past September, "a natural-language, generative AI copilot that will transform the way business runs." According to the press release:
Joule will be embedded into SAP applications from HR to finance, supply chain, procurement and customer experience, as well as into SAP Business Technology Platform. Joule transforms the SAP user experience – it's like tapping your smartest colleague on the shoulder. Employees simply ask a question or frame a problem in plain language and receive intelligent answers drawn from the wealth of business data across the SAP portfolio and third-party sources, retaining context.
Joule will be available with SAP SuccessFactors solutions and the SAP Start site later this year, and with SAP S/4HANA Cloud, public edition early [in 2024].
Although Joule is not available yet for SAP Extended Warehouse Management or SAP Transportation Management, Jared highlighted several AI use cases across the "Design to Operate" spectrum. In SAP EWM, for example, using AI to derive slotting rules automatically from current and historic product data with machine learning capabilities.
When it comes to Artificial Intelligence, many companies are still in the learning phase — that is, they're trying to understand the technology landscape and what's possible, and it's a bit challenging because everything is evolving very fast. Based on the number and types of questions they asked, I would say most of the conference attendees are still in the learning phase too.
Speaking of questions: Will AI become like blockchain — that is, lots of hype today about how it will change the world, but fast forward a few years and very little has really happened?
We discussed that question during a panel session I moderated at the event. Joining me on the panel were Megan North, Sr. Director Connectivity Strategy at C.H. Robinson; Mark Sargent, Worldwide Industry Lead at Apple; and Steven Simmerman, Head of Global Alliances at Locus Robotics
The short answer: AI will not become like blockchain.
First, like I said before, AI is not new, it's been around and used in applications for decades in both the consumer and business realms. As Mark Sargent from Apple commented, "You're using AI everyday and probably don't even realize it."
Second, although some software companies made big announcements and investments in developing blockchain solutions during the hype phase, many others were skeptical about the technology (due to cost and scalability issues, among other things) and didn't invest much in it. That is certainly not the case with AI. Every leading supply chain and logistics technology company is on the AI bandwagon; they've been using AI/machine learning for years and are now experimenting with Generative AI.
That said, AI and blockchain share a common question: Is the cost worth the benefit? (See this April 2023 CNBC article, "ChatGPT and generative AI are booming, but the costs can be extraordinary.") Simply put, AI is not cheap, so the benefits of its adoption have to greatly outweigh the costs. If something can be done just as effectively (or good enough) today using less expensive technology, nobody will pay more to use AI.
Enabling Interoperability of Warehouse Robots
In a February 2023 survey, we asked members of our Indago supply chain research community — who are all supply chain and logistics executives from manufacturing, retail, and distribution companies — "When evaluating warehouse robots solutions/vendors, how important are the following factors in your selection process?"
Topping the list of "Important/Very Important" factors was "Proven integration with existing warehouse management systems," followed by "Ability to easily configure robots to meet specific workflow requirements."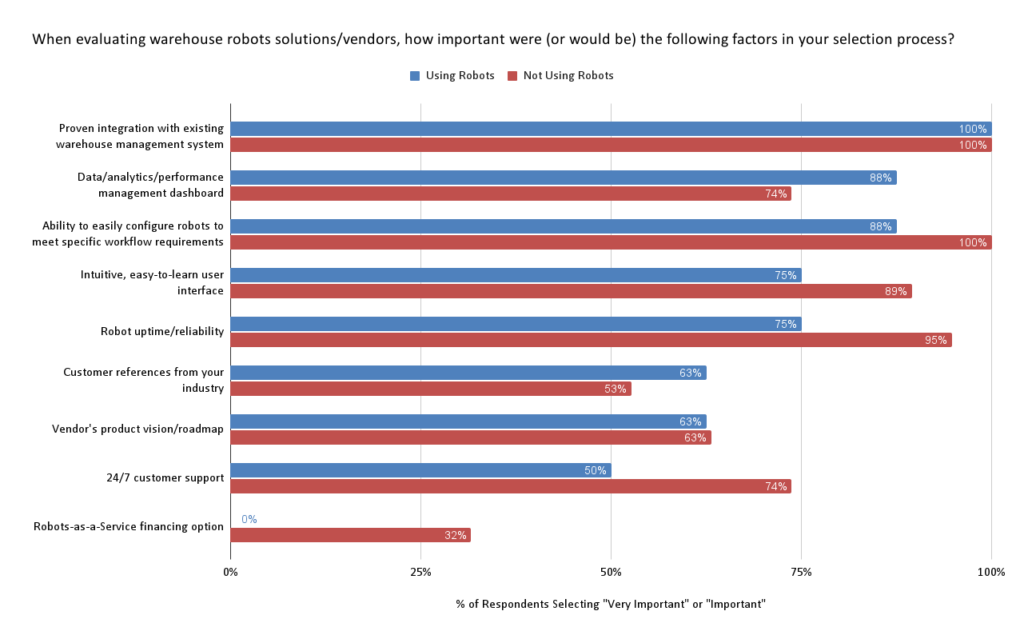 The importance of integration/interoperability was also one of the key takeaways from this year's ProMat conference (see "ProMat 2023: The "I" Word & Other Key Takeaways").
Simply put, with numerous warehouse management systems and hundreds of mobile robotics companies in the market, interoperability is getting more and more attention from both solution providers and customers.
Addressing this interoperability challenge is at the heart of SAP's Warehouse Robotics solution. Joao Karg provided an overview of the solution at the conference. One of the biggest updates made this year is the ability to integrate with the Fleet Management Systems (FMS) offered by robotics vendors, such as LocusONE from Locus Robotics. Customers can still integrate directly to the robots if they prefer, but as more vendors introduce their own fleet management systems, having this additional integration option is important.
The main difference between the two integration options is that certain functions performed by SAP Warehouse Robotics are performed instead by the FMS, like order assignment to robots, battery management, and error handling.
No doubt, this solution will become increasingly important as more and more companies implement warehouse robots in the years ahead.
Blue Diamond Growers: SAP Transportation Management and SAP Business Network for Logistics
I'm always on the lookout for customer case studies that involve business networks. In the case of SAP, several customers shared their success stories using SAP Business Network at this year's SAP Sapphire conference (see "Pfizer & Henkel: SAP Business Network Customer Highlights"). I was pleasantly surprised to hear several customers at this conference highlight their use of SAP Business Network as part of their logistics operations.
Blue Diamond Growers is a great example. Founded in 1910, the company is the world's largest almond processing and marketing cooperative, representing about 3,000 growers and exporting to over 75 countries.
In a presentation titled "Logistics Visibility and Resilience with SAP TM & Business Network," Selwyn Moore, Director, Global Logistics at Blue Diamond outlined the driving forces behind implementing SAP Transportation Management and SAP Business Network for Logistics. He was joined on stage by Anton Karnaukhov, VP of Application Delivery, at XpertMinds (their implementation partner) and Jack Braniff, Director of Global Partnership, at project44.
Blue Diamond faced several challenges that led them to implement these solutions:
They were relying on manual processes for creating and updating bookings. Staffing shortages during the Covid pandemic put a large strain on these manual processes.
They lacked a single source of visibility information and they were not able to expose this visibility to Customer Service Representatives.
They lacked visibility to expected/planned freight costs prior to receiving the invoice.
They had large tolerances for carrier invoices.
Phase 1 of the implementation project focused on container export shipments and Phase 2 focused on domestic shipments. Selwyn outlined the processes flows involved for each and how SAP Transportation Management and SAP Business Network for Logistics interfaced with each other. Here are some details:
For container exports, the TMS interfaced with SAP Business Network for ocean freight booking (powered by network ecosystem partner Descartes Systems Group) and for visibility to ocean leg milestones (powered by project44).
For domestic shipments, the TMS interfaced with SAP Business Network for carrier freight tendering and booking (via API integration with carriers), for real-time visibility to shipments (powered by project44), and freight settlement.
Data exchange was mostly enabled by APIs or Web UI.
At the end of the day, Blue Diamond resolved the challenges highlighted earlier, and in the process, saved $1 million in transportation costs and achieved a 20% reduction in supply on hand and a 99% fill rate on customer orders.
Transportation management is inherently a network-based business process. It involves an ecosystem of different parties — shippers, carriers, consignees, logistics service providers, and others — that need to communicate and collaborate with each other in order to transport products and utilize assets and labor as efficiently as possible. Therefore, it follows that transportation management systems need to be linked with a network — a pairing that will become the norm moving forward.
—
As we approach 2024, what will the future bring in the world of supply chain and logistics? More risk and uncertainty, for sure, but also more creativity and innovation, especially when it comes to technology. After listening to all the great presentations at SAP Logistics Info Days, I walked away believing that the best is yet to come.