Only 8 days to go before I (along with my Logistics Leaders for T1D Cure teammates) cycle 100 miles at the JDRF Ride for the Cure in Saratoga Springs, NY. How far is 100 miles? It's like going from Brooklyn, NY to Philadelphia, PA. How long will it take me? Well, it took me just over 7 hours last year in Death Valley!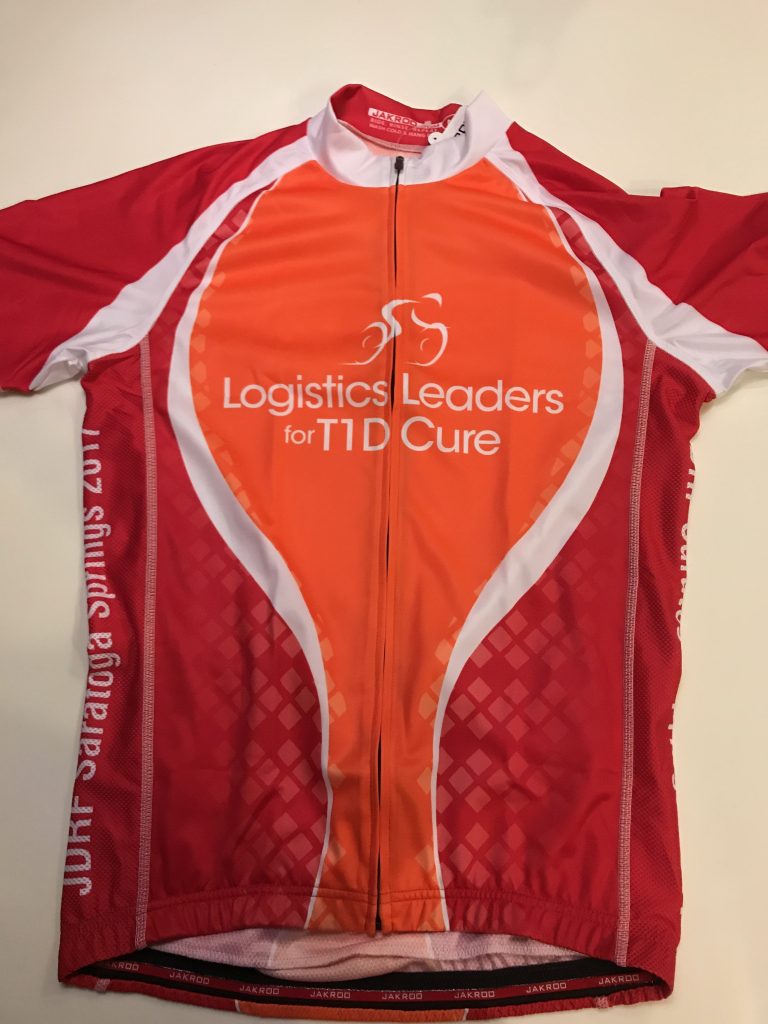 Since January, I have cycled over 1,500 miles in preparation for this ride. Many times during those long training rides, which I have done mostly by myself, I thought about giving up or taking a shortcut back home. But whenever those thoughts crossed my mind, I thought about my teenage daughter and everyone living with Type 1 Diabetes and how they can't give up, and so I pedaled on.
Next month will mark 6 years since my daughter was diagnosed with T1D and it's amazing to see how much progress has been made by the medical and scientific community in bringing us closer to finding a cure, in developing new devices to ease the daily challenges of managing this disease, and in helping patients receive insurance coverage for these devices and treatments. JDRF plays a critical role in all these areas, as well as in disaster relief. In response to Hurricane Harvey, for example, JDRF and other organizations shipped more than 3,750 pounds of donated diabetes supplies to Houston (including 200,000 syringes, 50,000 pen needles and 20,000 alcohol pads) to help people with diabetes affected by the hurricane.
But it takes millions of dollars each year to keep the progress going, which is why I ride and do what I can to raise money.
I am $706 short of my fundraising goal. Thank you to our team sponsors — BluJay Solutions, C.H. Robinson, Descartes Systems Group, and Elemica — and the many friends and family members who have already donated for your generous support. If you would like to make a tax-deductible donation of any amount to help me reach my goal, it's not too late; just click on this link.
Thank you for your time and consideration.
Now, let's move on to this week's supply chain and logistics news….
As Florida braces for Hurricane Irma, the aftershocks of Hurricane Harvey are still being felt, including within the trucking industry. As reported by the Wall Street Journal this week:
Trucking costs are surging in the wake of Hurricane Harvey…The cost of hiring a tractor-trailer to move freight from Dallas to Houston was an average 66% more in the week ended Sept. 2 compared with the previous week, according to online load board DAT Solutions LLC.

Trucking companies are charging more because making deliveries in Houston is slow going and potentially costly as the city rebounds from the storm. Trucks are also struggling to find loads in the city for the return trip because so many businesses that export to other parts of the country remain shut.

Nationally the average rate for dry vans, the most common trucks, rose to $1.90 per mile including fuel surcharges for the week ending Sept. 2, up 6.7% compared with the previous week.
We'll have to wait and see what happens in Florida and along the east coast in the coming days, but one thing is certain: transportation networks will experience more disruptions, which means trucking rates will continue to rise and capacity will continue to tighten in the days and weeks ahead.
Taking a page from Amazon and Walmart, UPS is apparently planning "to hire people to deliver packages using their personal vehicles during this year's busy holiday season," but the Teamsters National UPS Negotiating Committee is fighting back, as reported by WDRB.com. In a letter to UPS, Sean O'Brien, director of the Teamsters' national package division, writes:
In short, we have no intention of permitting [UPS] to utilize seasonal employees to transport ground packages in their own vehicles. We would consider any attempt by the company to initiate such a program to be a violation of the current contract and will invoke all of our rights to prohibit such implementation. And I highlight, if such is necessary, the significant financial penalties the company will face if it is found to have violated its pledge in Article 1, Section 4 that it will not to establish a parallel work force to which it can divert bargaining unit work.
When it comes to package delivery, I'm not completely sold on the gig-economy model, but I'm also convinced that new delivery models are needed to keep pace with the rapid growth of e-commerce and our ever-more-demanding expectations as consumers. Everyone in the order-to-delivery ecosystem must be willing to change and adapt to this new reality. Simply put, what worked in the 1990s will not work (as effectively) in the years ahead.
Speaking of parcel delivery, Pitney Bowes announced that it has signed "a definitive agreement to acquire Newgistics, Inc., an Austin, Texas-based provider of parcel delivery, returns, fulfillment and digital commerce solutions for retailers and ecommerce brands" for about $475 million. Here are some excerpts from the press release:
The acquisition will accelerate Pitney Bowes' expansion into the U.S. domestic parcels market at scale, enabling the company to deliver a broader range of consumer-focused ecommerce and parcel management solutions to retailers, small and medium businesses, and enterprise clients.

Newgistics, best known for its returns-processing capabilities, provides a range of ecommerce solutions on behalf of nearly 500 retail clients. It is a workshare partner of the United States Postal Service (USPS®) and processes nearly 100 million parcels annually, including more than 50 percent of all Parcel Returns Select packages shipped through the USPS. It's parcel services and ecommerce logistics network includes nine operating centers and an asset-light national transportation network of more than 50 partners.
Over the past few years, as mail volumes have continued to decline, Pitney Bowes has had to adjust its focus and strategy to find new growth areas. Not surprising, e-commerce is one of the biggest growth opportunities around. As the company stated in the press release, "parcel volume has increased 48 percent globally over the past two years and is expected to grow another 17 to 28 percent between 2017 and 2021." And as e-commerce continues to grow, so does the need for returns processing, which is a headache most retailers and sellers are willing to outsource.
Pitney Bowes also announced this week the SendPro C-Series, "a digital multi-carrier platform that enables offices of all sizes to easily select the ideal sending option for every parcel, letter and flat they send, while also providing full tracking and delivering savings across carriers, which can be as much as 39 percent off some USPS retail shipping rates."
And with that, I'm out of time and space for today. Our thoughts and prayers are with folks in Florida and elsewhere who are in Hurricane Irma's path. Stay safe.
Song of the Week: "One for the Road" by Arctic Monkeys