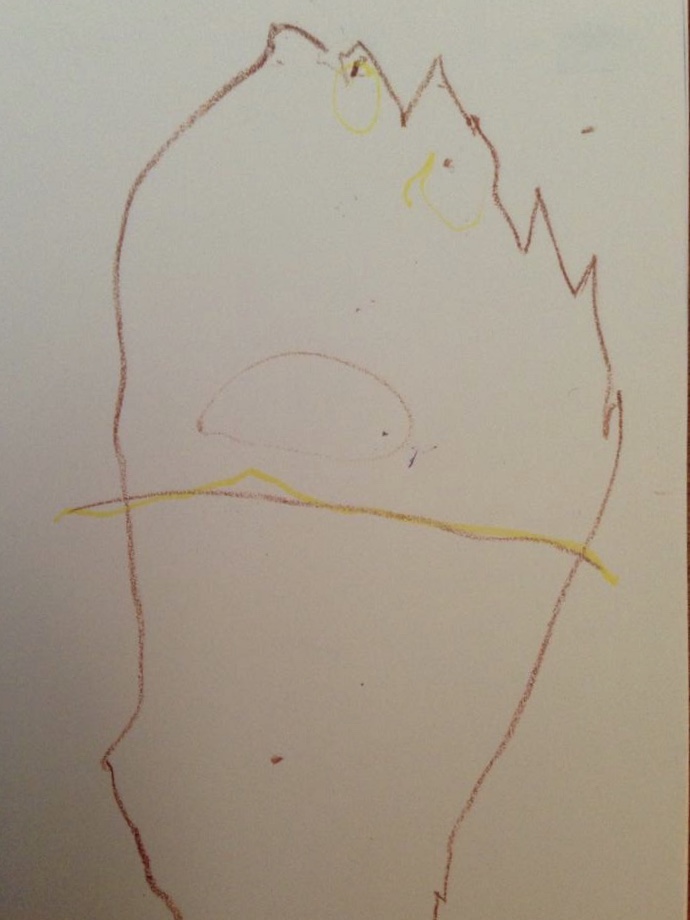 Earlier this month, I retired my old headshot photo and starting using a new one.
Today, I'm temporarily replacing it with this drawing of me that my daughter — the one heading to college this fall — drew way back when she was 2 years old. Remarkably, although 16 years have gone by, I look exactly the same.
Shifting gears, here's the supply chain and logistics news that caught my attention this week:
CVS Partners with USPS for Rx Home Deliveries
Will the day come when we will never have to leave our house for anything?
Mail-order prescriptions have been around for years, but if that doesn't work for you or getting to your local CVS is too inconvenient, you can now have your prescriptions home delivered. As reported by the Wall Street Journal:
CVS struck a deal with the Postal Service to pick up prescriptions at CVS stores and bring them to customers' homes in one or two days. Customers will be charged $4.99 per delivery, which could include over-the-counter products such as aspirin or face wash.

CVS is rolling out the nationwide service as it fights falling sales in its roughly 9,800 pharmacies and braces for potential competition from Amazon [and] from venture-backed startups like PillPack Inc. and Capsule Corp., which provide home delivery of medicines.
Since there is no such thing as free shipping, charging a delivery fee makes sense — but is $4.99 the right price point? Will people be willing to wait one or two days for their prescriptions? Is USPS the right partner? Those are all debatable questions that time will ultimately answer.
However, it seems to me that if shipments are being picked up at stores versus a fulfillment center, sending them through the USPS (or even UPS or FedEx) networks is a bit overkill. I'm sure there are regulatory and liability considerations involved, but I think a crowdsource delivery model (think Deliv) would make more sense in this case — it would certainly be faster, maybe cheaper too.
I'll think about it some more later when I leave the house to go for a walk.
Logistics Providers Evolve into Logistics Innovation Partners
One of my supply chain and logistics predictions for this year was that software vendors and third-party logistics providers (3PLs) will make it easier for customers to innovate. Here's what I wrote back in December:
Many manufacturers and retailers are starting to look at their third-party logistics (3PL) partners not just as providers of transportation and warehousing services, but also as technology providers and innovation labs. Kenco Group (a Talking Logistics sponsor) is a great example. In response to this trend, the company launched Kenco Innovation Labs in 2015, where its dedicated team of innovation specialists "collaborate with customers to identify, research, and prototype leading-edge ideas and processes," including drones, 3D printing, gamification, augmented reality, AGV pallets, and wearable scanners.
The latest example is the news this week that Nestlé and XPO Logistics "are co-creating a 638,000-square-foot distribution center at the new SEGRO East Midlands Gateway Logistics Park in Leicestershire, UK. The facility, a digital warehouse of the future, will be occupied predominantly by Nestlé for its consumer packaged goods and will function as a testbed environment for XPO technology prototypes prior to global release."
Here are some excerpts from the press release:
The custom-designed distribution center, scheduled for completion in 2020, will feature advanced sorting systems and robotics alongside state-of-the-art automation co-developed with Swisslog Logistics Automation. The site's digital ecosystem will integrate predictive data and intelligent machines to deliver one of the most advanced distribution management centers in the world.

Richard Cawston, Managing Director, Supply Chain, XPO Logistics Europe, said: "Nestlé has entrusted XPO with the digital architecture for its future vision. Together, we will create limitless opportunities to explore new technologies in a state-of-the-art logistics environment. The new East Midlands center will operate as both a think tank and a launch pad for XPO innovations, with far-reaching impacts on the way business is done. We look forward to an inventive collaboration with Nestlé."
3PLs, what business are you in? How you answer that question (which should be different today than 10 years ago) will determine your future success — or lack thereof.
And with that, have a happy weekend!
Song of the Week: "Only Wanna Be With You" by Hootie and the Blowfish