My voice is a little sore this morning. It could be from all the cheering last night. My son's Little League All-Star team advanced to the District Championship with a thrilling win last night. If the team wins tomorrow, they advance to the next round of the State Championship tournament.
Or my sore throat could be from the loud yelp I gave out yesterday when I received my daughter's first college tuition bill.
Whatever the cause, I'm giving my voice a rest today.
Moving on, here's the supply chain and logistics news that caught my attention this week:
Tight Capacity Impacting Warehousing Market Too
It's not just the trucking market that's dealing with tight capacity; demand for warehousing space is also outpacing supply.
According to a new report from CBRE, "the availability rate for U.S. industrial real estate declined by 10 basis points (bps) in the second quarter, marking the measure's 32nd consecutive quarterly decline, as demand for warehouses, distribution centers and other industrial property continues to outpace supply."
In a related article from the Wall Street Journal, Erica E. Phillips writes:
E-commerce has been driving up demand for warehouse space and has also pushed retailers to adjust how they use spaces they already occupy—a "compositional change," [Tim Savage, senior managing economist for CBRE] said.

Some distribution centers have added fulfillment operations. Other warehouses have converted to "cross-dock" facilities to handle last-mile delivery of bulky items. And many brick-and-mortar retail locations have added e-commerce services, reducing the storefront footprint.
This underscores a trend I wrote about recently in Supply Chain Transformation: Not Just Digital, But Physical Too: companies are recognizing that their supply chain and distribution networks, which were originally designed to flow truckloads of products from large distribution centers to stores, are becoming outdated in this new market where speed of delivery and inventory reduction are paramount. As a result, they are changing the form, function, and/or location of their stores, warehouses, and fulfillment facilities.
Rising Diesel Prices Add Fuel to the Fire
Shippers are already dealing with rate increases in trucking due to capacity constraints. There's another factor that will make matters worse: rising diesel prices, which will increase fuel surcharges.
The U.S. average retail price of diesel rose 0.7 cents this week to $3.243 a gallon. Last year at this time the price was $2.481 — a 30.7 percent increase!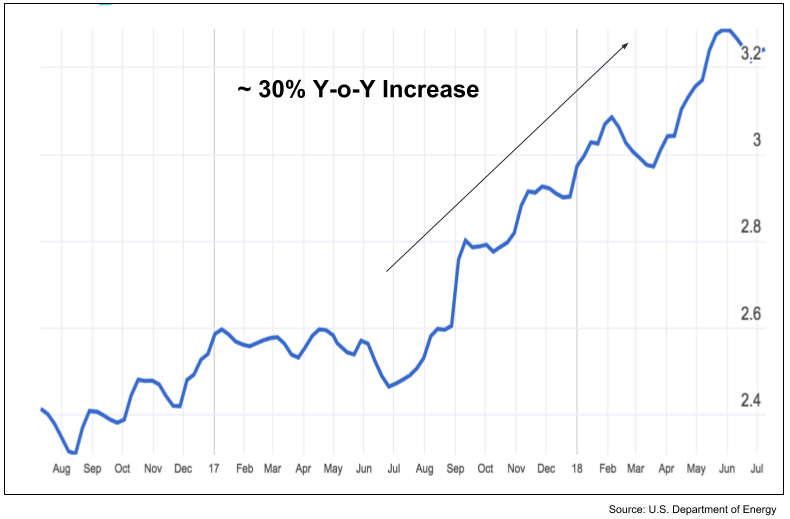 Simply put, while it's impossible to predict what will happen with oil and diesel prices in the future, the current trend is certainly not favorable to freight spend budgets.
BluJay Solutions Updates its Global Trade Network Platform
BluJay Solutions (a Talking Logistics sponsor) announced the release of BluJay Global Trade Network version 18.2, which "delivers full multimodal transportation support, with extended customs management and mobile capabilities designed to help companies streamline their global supply chain management." Here are some excerpts from the press release:
Transportation Management: BluJay's Transportation Management offers full multimodal support in one solution – truckload, LTL, ocean, parcel, rail and now air – for freight moves around the globe. The new release includes air mode support for booking creation and shipping assignment…Version 18.2 also includes tracking provider integration with GateHouse Logistics, a European telematics data aggregation and sharing platform, offering customers a new, unique view into all available information from over 400 telematic providers. The ability to generate recipient-created tax invoice (RCTI), of particular importance in Australia, was also added.
MobileSTAR: Providing real-time tracking and last-mile routing across the supply chain, MobileSTAR can help deliver an enhanced customer experience. In this release, several enhancements were added to MobileSTAR, including the use of augmented reality (AR) overlay to validate item dimensions. Using a smartphone camera, users can point at a package to measure and validate the dimensions with the MobileSTAR app. Users can also use near-field communication (NFC) to read/write RFID tags.
Control Tower: A core component of the GTN, Control Tower provides transparency and synchronization across an organization's supply chain and supports workflow between partners. In release 18.2, BluJay adds OpenStreetMaps providing visual mapping for visual milestones. In addition, the Control Tower dashboard now includes chart and transport order search, and a visualization of key criteria or status of the work that needs the user's attention.
Enhancements were also made to other solutions, including Parcel, Yard Management, and Customs Management.
As I wrote over two years ago, the transportation management system (TMS) market is becoming barbell-shaped, and as this announcement by BluJay shows, the broader, more integrated, and feature-rich end of the TMS barbell continues to get larger.
And with that, have a happy weekend!
Song of the Week: "Waiting For The End" by Linkin Park