What does it feel like to cycle in 29F weather going 17.2 mph for 27 miles?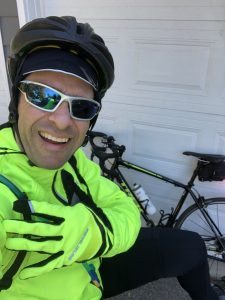 I found out this past Monday when I went out for my final training ride before shipping my bike to Santa Fe, NM for the JDRF Ride to Cure. Eight days to go until I and my Logistics Leaders for Type 1 Diabetes Cure teammates set out to cycle 100 miles in support of JDRF and its quest to create a world without T1D.
Thanks to the generous support of our team sponsors and supporters, as well as family and friends, our team has raised over $57,000 so far! I'm hoping we can raise another $5K this week to get us closer to our goal, so if you're interested in supporting our team and cause, you can donate via this link (no amount is too small).
I don't listen to music when I cycle, but I still create a playlist to pump me up before I ride. Inevitably, one or two of the songs will get stuck in my head, and I'll play them over and over again in my mind, mile after mile, until I cross the finish line. Here's this year's playlist:
What do you think? What songs would you put on your playlist? Post a comment and let me know.
Moving on, here's the supply chain and logistics news that caught my attention this week:
I'm short on time today, so I'll share my perspective on some of these news items in future posts.
Have a happy weekend!