If supply chain stories appearing on the front page of the Wall Street Journal, or The Onion publishing a post related to supply chain, or the recent cover art of The New Yorker aren't proof enough, then here is Exhibit 47 of how you know "supply chain" has gone mainstream: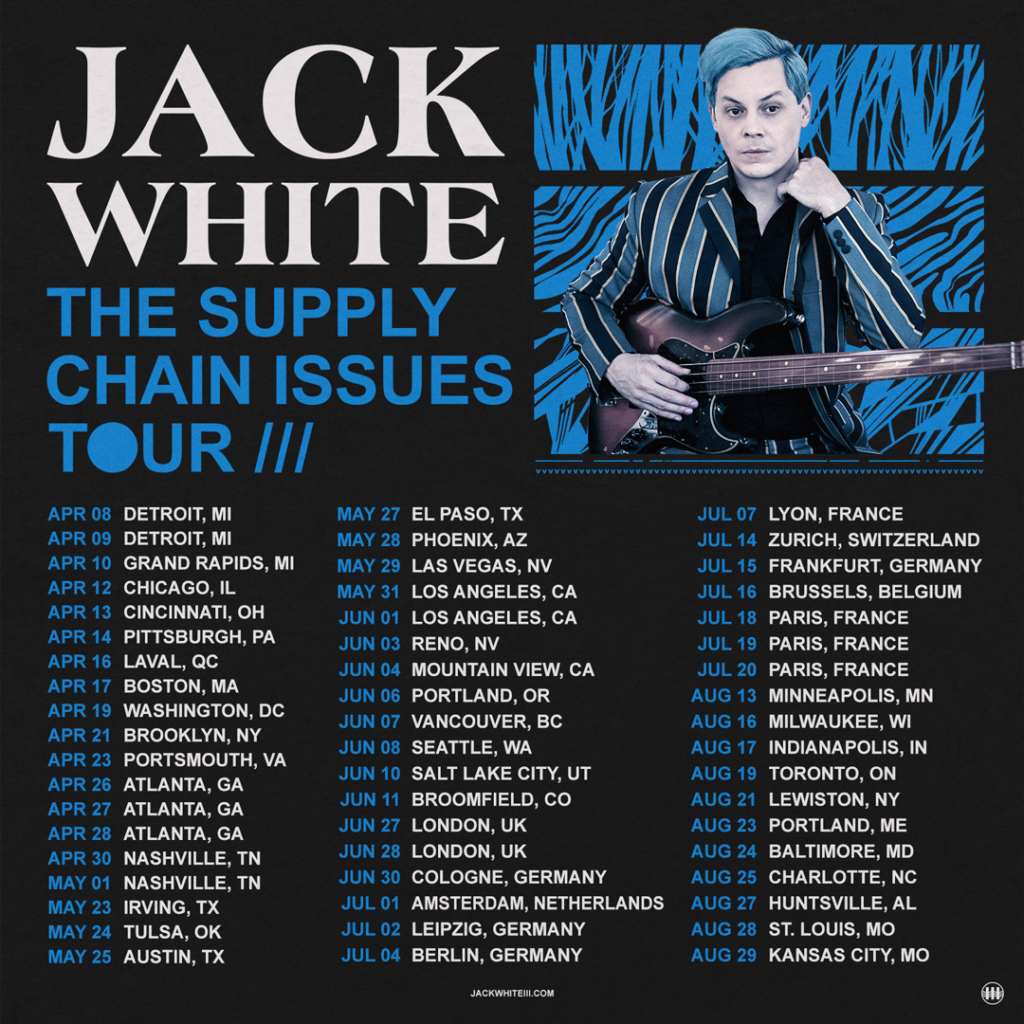 And thank you Jack White for keeping it old school and not putting a hyphen in supply chain. Let's hope your tour doesn't get delayed or derailed by supply chain issues!
As we near the end of 2021, it was a busy week in supply chain and logistics news:
How to Attract & Retain More Truck Drivers?
"I want to grow up to be a truck driver."
That is not something you hear very often these days, especially when there are many other career options for young adults (who opt not to take the 4-year college route) that are less onerous than spending days away from home behind the wheel, like training to become a construction worker, plumber, electrician, HVAC technician, or car mechanic.
As I wrote back in July 2014 in "Truck Drivers Are Treated Like Trash With No Rights," paying drivers more is not enough to solve the driver shortage problem; the solution begins with the industry and the public showing drivers a whole lot more respect. Read the post for comments and insights from a truck driver who spent 28 years on the road. 
In short, attracting and retaining truck drivers is an ongoing issue in the industry. It's one of the reasons why there's so much investment in developing autonomous, self-driving trucks (for example, see the links above about Aurora and Uber Freight, and TuSimple and DHL). But like all difficult problems, you can either throw your hands up in the air and give up or you can keep trying to solve them.
This week, the Biden-Harris Administration announced a "Trucking Action Plan to Strengthen America's Trucking Workforce." Here is a summary from the announcement:
Today, the Departments of Transportation and Labor are launching an effort to support and expand access to quality driving jobs now and in the years ahead. The Departments are accelerating the expansion of Registered Apprenticeship programs for drivers that put more skilled, safe drivers on the road; taking immediate steps to address the pandemic-driven delays in getting a commercial driver's license; curbing the proliferation of low-quality training that increases the supply of less qualified drivers who end up in debt or being exploited; and expanding more seamless paths for veterans and underrepresented communities, such as women, to access good driving jobs.
There are a lot more details in the announcement, so I encourage you to read it.
My quick take: these actions might help overcome some of the hurdles in attracting new drivers to the industry, but will likely have little impact on retaining them for very long. Why? Because as I highlighted in "Driver Shortage In Trucking: Time For Plan B," the pull of home (of sleeping in your own bed and being with your family every night) is greater than the pull of money, even when unemployment was above 8 percent.
On a related topic, The Infrastructure Investment and Jobs Act that was signed into law last month includes funding for setting up an apprenticeship pilot program for commercial driver's license holders under the age of 21 to operate in interstate commerce. We asked members of our Indago supply chain research community if they support lowering the minimum age of interstate truck drivers to 18, and how comfortable they would be having an 18 year old truck driver transporting one of their loads across state lines. Since I'm guessing many folks are starting to check out early for the holidays today, I'll share some insights from the research after the holidays.
And with that, have a happy weekend!
Song of the Week: "Beautiful James" by Placebo