The good news is that everyone is talking about supply chains today. The bad news is that it's mostly bad news: congestion at ocean ports, shortage of drivers and warehouse workers, delayed deliveries, rising oil and gasoline prices, and the list goes on.
When will it get better? Nobody really knows, except that it won't happen in the remaining weeks of 2021. If anything, the situation will likely get worse.
Who's to blame? Everybody else but you, of course.
On the lighter side, is it "supply chain problems" or "supply-chain problems"?
It seems like mainstream publications like to use the hyphen. But industry publications, technology companies, and analysts like me have rarely (if ever) hyphenated the term.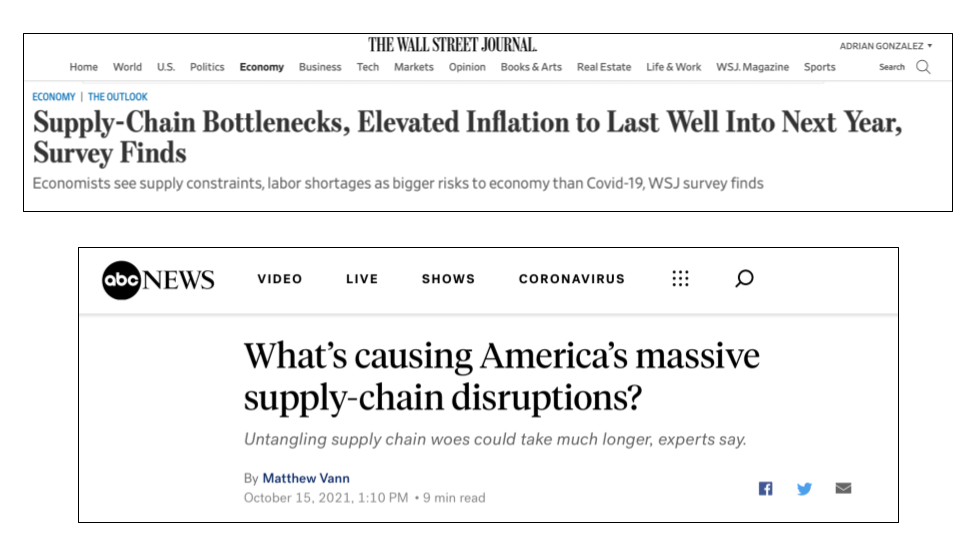 I view things like "supply chain problems," "supply chain disruption," "supply chain technology," "supply chain executive," "supply chain visibility," and "supply chain sustainability" as entities in themselves. I understand why adding a hyphen is correct from a grammar rules standpoint if "supply chain" is viewed as a compound modifier, but it seems to me that virtually nobody was adding the hyphen until relatively recently (only in the last year or so). Then again, a lot fewer people/publications were writing about supply chain management until relatively recently too.
Will the hyphen become the Oxford comma of the industry? What do you think — hyphen or no hyphen? Post a comment and let me know.
The Quarter in Review
In case you missed them the first time around or want to read/view them again, check out the top posts and new episodes from the third quarter of 2021. After reading/watching them, share this post with your colleagues and social media followers, then post a comment and share your perspective on these topics!
Top Posts
New Episodes
Indago Research Reports
This quarter we completed eight research surveys and donated $2,250 so far this year to JDRF, American Logistics Aid Network, American Cancer Society, Feeding America, and Make-A-Wish.
Trust in Supply Chain (September 2021): Do you agree or disagree with the statement "you can't be too careful" when dealing with people across your supply chain? What is the level of trust you have with the different stakeholders in your supply chain?
Trucking Spot vs. Contract Rates (September 2021): How frequently do you check the difference between your contract rates and spot rates for your critical lanes? What is your outlook for contract rates for the next 6 months?
Asking Good Questions (September 2021): How would you characterize the question asking skills of your supply chain organization? What is your big supply chain question?
Renaming Supply Chain Management (August 2021): Is it time to rename Supply Chain Management? If so, what would be a better name for this discipline?
Robots in the Warehouse (August 2021): Is your company planning to deploy robotic technology in your warehouses? What factors are driving companies to invest in these emerging warehouse automation technologies?
Transportation Service Providers (July 2021): When selecting a transportation service provider, how important are the size/scope of their logistics networks and breadth/depth of their technology platforms?
Supply-Driven Supply Chains (July 2021): Has your company become more supply-driven this year in response to current market challenges? How often does your cross-functional supply chain team meet to analyze supply and demand data and refresh plans and forecasts?
Revisiting Last-Mile Delivery (July 2021): What last-mile capabilities provide an enhanced customer experience? What are the top challenges associated with last-mile delivery today?
If you're a supply chain or logistics practitioner from a manufacturing, retail, or distribution company, I encourage you to learn more about Indago and join our research community. It is confidential, there is no cost to join and the time commitment is minimal (2-5 minutes per week) — plus your participation will help support charitable causes that need our help today more than ever.
Reminder: There are many ways to stay connected with Talking Logistics and Indago throughout the year — choose all the options that you prefer:
Email Newsletter
LinkedIn (Talking Logistics)
LinkedIn (Indago)
Twitter (Talking Logistics)
Twitter (Indago)
Facebook
YouTube (where you can also watch all of our episodes)
iTunes (where you can listen to podcast versions of our episodes)