I've said in the past that last-mile delivery is a new moment of truth, a moment where you can further delight your customer and strengthen your brand reputation, or a moment where you can potentially lose a customer for life.
But is it the last moment of truth?
Not if you need to return an item. How companies manage the returns process is yet another opportunity to either delight a customer or lose them for life.
As e-commerce sales grow, so does the volume and challenge of product returns. As Jinjoo Lee reported last week in the Wall Street Journal ("Retailers' Many Unhappy Returns"):
Products and gifts valued at $112 billion to $114 billion could be returned to U.S. retailers after the holiday season, up from $100 billion in 2020 and $95 billion in 2019, according to an estimate from B-Stock Solutions, an online liquidation platform that allows retailers such as Best Buy and Walmart to sell returned or excess inventory to other, typically smaller retailers. United Parcel Service expects to handle more than 60 million return packages from Nov. 14 through Jan. 22, a 10% increase from the previous year.
What I wrote in January 2018 remains fairly true today: Product returns is another example of how "the way we've always done it" is just not going to cut it any more. Retailers have been so focused over the past few years on omni-channel retail, on the sell side of e-commerce, that they have virtually ignored (underinvested in) their ability to effectively manage product returns, the hangover headache of e-commerce.
The good news is that new software solutions and services are emerging to help companies address this challenge. For example, we're seeing the emergence of Returns Management Systems (RMS) from vendors such as ReverseLogix focused on streamlining and automating the returns process. And services like those provided by B-Stock Solutions are enabling new models to buy and sell returned, excess, and other liquidation inventory.
For third-party logistics providers (3PLs), helping retailers with product returns is a growth opportunity (if they invest in building the capabilities). In a research study we conducted in partnership with Nulogy in 2019, we asked leading 3PLs, "Which value-added services do you foresee having the most growth potential in the next 3–5 years?" "Returns Management" ranked second overall, with 66% of the respondents selecting it.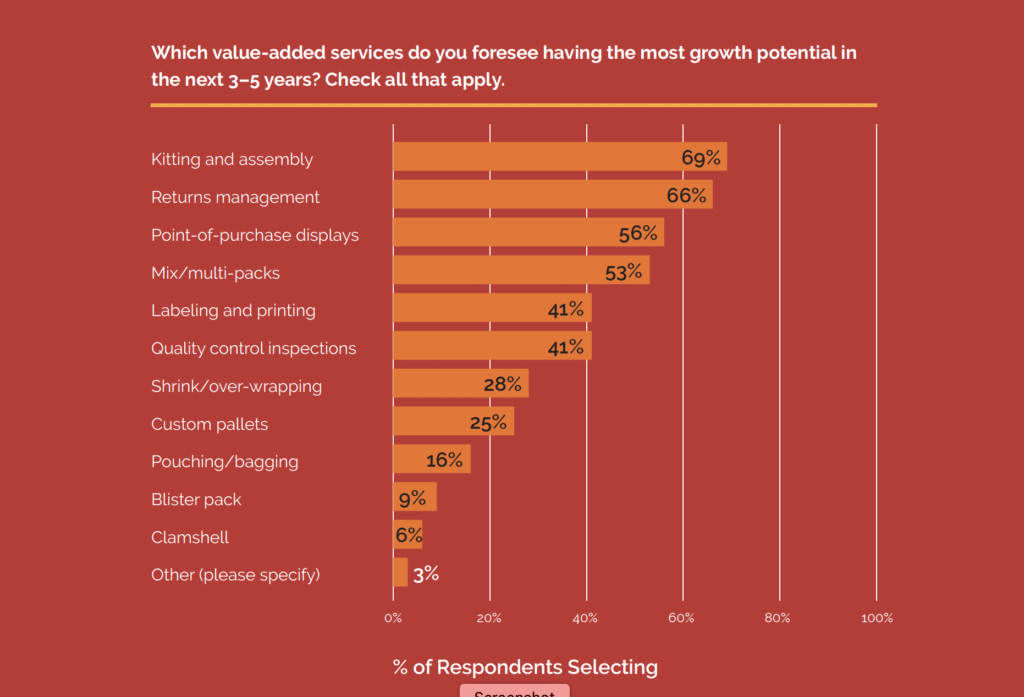 How would you characterize your returns management process? Is this an area you're actively investing in? Members of our Indago supply chain research community will be sharing their perspective this week. Join Indago today to participate in the research and receive the results.
The bottom line is that companies can no longer afford to ignore how they manage product returns. If you do it well, in addition to gaining financial benefits, this is an area where you can further differentiate yourself from the competition by providing an enhanced customer experience. But if you stick with "the way we've always done it," then your headaches will only get worse and at this moment of truth, you will risk losing customers for life.