School was closed last Friday due to the first snowstorm of the season. For my kids, this meant getting to work on building a snowman. They try to outdo themselves every year, but when you've already built a 13 ft. 3 in. snowman, how can you beat that?
By not building a snowman.
After several hours of gathering and shaping snow, and using up all of our food coloring, SpongeBob SnowPants came to life.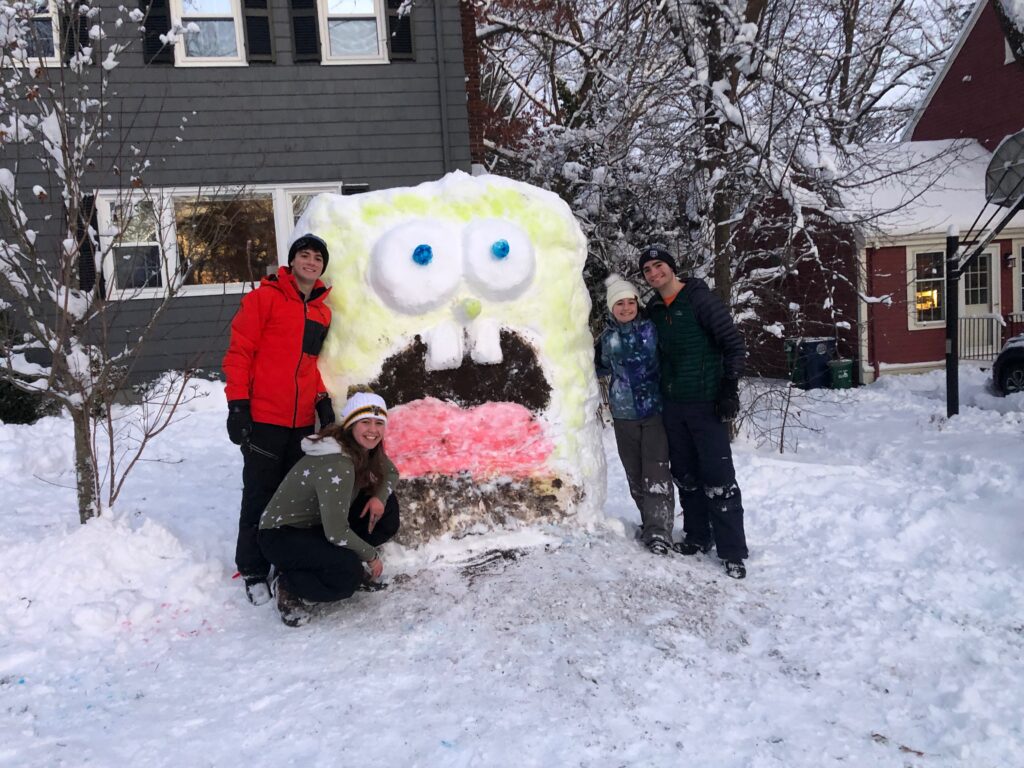 My kids are all getting older (my youngest turns 14 tomorrow, my oldest is 21), but they still love playing together, whether in the snow or sweating it out in the basement playing Just Dance. May they stay this close forever.
Moving on, here's the supply chain and logistics news that caught my attention this week:
It's Deja Vu All Over Again: COVID Continues to Disrupt Global Supply Chains
When it comes to supply chains, what happens in China doesn't stay in China. As reported in the Wall Street Journal this week:
With Covid-19 flaring up across China, major manufacturers are shutting factories, ports are clogging up and workers are in short supply as officials impose city lockdowns and mass testing on a scale unseen in nearly two years.
As Yogi Berra would say, it's deja vu all over again.
These shutdowns and disruptions in China will ultimately compound the shutdowns, disruptions, and delays occurring in the United States, Europe, and elsewhere too.
The Ports of LA and Long Beach, for example, are having a hard time clearing "a backlog of about 100 container ships at the nation's busiest port complex as [COVID-19] infections rise among Southern California dockworkers," writes Paul Berger in the Wall Street Journal. "About 800 dockworkers — roughly 1 in 10 of the daily workforce at the ports of Los Angeles and Long Beach — were unavailable for Covid-related reasons as of Monday, according to the Pacific Maritime Association. Absentees included workers who tested positive for the virus, were quarantining or awaiting test results, or who felt unwell."
Cross-border trucking is not immune (pun intended) to Covid either. As Steve Scherer and David Shepardson report in Reuters:
Unvaccinated Canadian truckers re-entering Canada from the United States must get tested for COVID-19 and quarantine themselves starting Jan. 15…Some 10% to 20%, or between 12,000-22,000 Canadian truck drivers, and 40%, or 16,000 U.S. truck drivers traveling into Canada would be sidelined by upcoming mandates in both countries, the Canadian Trucking Association (CTA) estimates. 

Unvaccinated foreign truckers will be barred from entering Canada starting Saturday [January 15]…The United States has also said that foreign truck drivers must show proof of inoculation to enter that country starting on Jan. 22.
I think this supply chain executive from our Indago research community said it best in terms of what will happen in 2022:
"As Herman's Hermits once said, 'Second verse, same as the first.' Or maybe this is the third or even fourth verse by now, but the song remains the same. Tight capacity, labor shortages, port congestion, cost pressures. Unfortunately, I don't think any of that will be materially different in 2022 than it was in 2021. Hoping to see some better days by 2023."
We have 11.5 months to go.
2022: The Year of the Network
We're only two weeks into 2022 and Supply Chain Operating Networks are making a big splash.
Last week, Blume Global (a Talking Logistics sponsor) announced its acquisition of LiveSource (see here for my commentary). This week, Transporeon (a Talking Logistics sponsor) announced two acquisitions (SupplyStack and Nexogen) and a partnership (Frieghtos), project44 announced a major investment, and E2open (also a Talking Logistics sponsor) announced its Q3 FY2022 results and reported accelerated organic growth. Here are some highlights from the press releases:
Transporeon: "With the acquisition of SupplyStack, Transporeon adds multimodal and part load capabilities to its global Transport Management Platform, counting 1,300+ shippers, 100+ retailers and 130,000+ LSPs and Carriers. Transporeon also expands its carrier offering by acquiring Nexogen, adding AI based fleet optimization, dispatching and itinerary planning to its platform services."
project44: "Announced that it received an investment totaling $420 million. A syndicate led by Thoma Bravo, TPG and Goldman Sachs Asset Management with participation from [other investors] acquired equity interests resulting in a pre-money valuation of $2.2 billion…When combined with its $202 million equity raise in May of 2021, project44 has set a funding record for Logistics Tech enterprise SaaS companies. These investments position project44 to accelerate its mission to help leading brands optimize the movement of products across supply chains, delivering better resiliency, sustainability and value for their customers.
E2open: "Nearly 30% of new bookings in the third quarter of 2022 came from new logos, compared to 15% in the third quarter of 2021. Average enterprise new logo contract size (over $100k of annual subscription revenue) was more than double that of the third quarter 2021 which was around $200k. This reflects greater scope, scale and pricing for initial client engagements. E2open recently launched 'Global Logistics Orchestration' a network-based product that enables our customers to orchestrate materials and finished product to move across their network of carriers, across modes, regardless of whether movements are initiated by internal logistics teams or third-party logistics service providers or both."
I expect ongoing mergers and acquisitions in this space in the weeks and months ahead, with perhaps some large technology-centric logistics service providers getting in on the action.
The race to build scale and scope is on (with many betting that profitability will ultimately come too).
And with that, have a happy weekend!
Song of the Week: "Gasoline" by The Weeknd