"Technology plays a critical role in increasing the resiliency and speed of your supply chain," said SAP CEO Christian Klein during his keynote presentation at SAP Sapphire in May.
Did he then talk about specific software applications like supply chain planning or transportation management systems? While those solutions certainly play important roles in driving change and innovation in supply chain management, Klein focused instead on a technology platform that is finally getting the attention it deserves:
"Our SAP Business Network enables you to go beyond your company boundaries and connect the material flows across your entire industry to gain the end-to-end visibility to trace materials and goods, to collaborate, source, and ship products on our network 100% digitally without the need for manual paperwork. Today's SAP Business Network already includes millions of trading partners across all industries. It's more critical than ever to not only connect one company with another but to bring entire industries together."
This was a milestone moment for me.
Way back in 2003, I first wrote about the emergence of Supply Chain Operating Networks, which I defined at the time as:
Supply Chain Operating Networks bring together trading partner connectivity with software-as-a-service applications. Instead of companies creating hundreds or thousands of one-to-one connections with their trading partners, they make a single connection to the business network, where their trading partners and thousands of other companies are also connected, and they use the SaaS applications that reside on the network to communicate, collaborate, and execute business processes in more efficient, scalable, and innovative ways.
It's fair to say that relatively few people understood what I was talking about back then. Facebook and LinkedIn were just getting off the ground at the time, so even social networks were new and unfamiliar.
Over the past two decades, I've continued to write about the "power of network effects" in supply chain and logistics. I've even made the case that companies need to create a new C-level executive role — that is, appoint a Chief Network Effects Officer who views supply chain management through a "network effects" prism.
In short, educating the market on the role and benefits of what many in the industry now call "business networks" has been a long journey, and the education process continues.
"Very rarely, if ever, do customers come to me and say, 'I want to buy a business network'," said Valerie Blatt, Global Head for SAP Business Network Customer Success & Go-To-Market, in her presentation at Sapphire. "But they do say, 'I have these challenges inside of my company that ERP solves for me, but I don't know how to solve the challenges that are outside the four walls of my company'."
In other words, companies might not be sending out RFPs for business networks, but they are certainly looking for a better way to communicate and collaborate with their multitude of trading partners — that is, a better way than creating and managing thousands of one-to-one connections with them, a better way than sending countless emails back and forth with spreadsheets and PDF documents attached.
This brings me back to Christian Klein's keynote presentation and why it was a milestone moment for me. We often talk about how important it is for companies to get the buy-in and support of their CEOs to drive change and innovation within their organizations. This is especially true when investments in technology and people are required. Getting CEO buy-in and support is not only important for manufacturers and retailers, but enterprise software companies too.
To me, seeing and hearing the CEO of one of the largest and most influential enterprise software companies talk about the importance of business networks in front of thousands of customers at a major conference was a clear sign that SAP (a Talking Logistics sponsor) is committed to growing and innovating its business network. In other words, business networks have reached the C-level suite at SAP and it is now a critical component of the company's supply chain value proposition and roadmap.
It was also a milestone moment for another reason: I suspect that prior to the conference many customers attending the keynote presentation didn't know about SAP Business Network or maybe they didn't fully understand it. But after listening to Klein talk about it, as well as Lidia Fonseca, Chief Digital and Technology Officer at Pfizer, who took the stage right after Klein to share Pfizer's success story using SAP Business Network, I'm sure many customers are now intrigued to learn more about it.
I certainly wanted to learn more, which is why I spent most of my time at Sapphire attending sessions related to SAP Business Network.
It's impossible for me to highlight every session I attended over two days, but today I will focus on three key takeaways and announcements. In a future post, I will highlight some customer success stories.
SAP Business Network: Much More Than Procurement
SAP Business Network's origin story begins with SAP's acquisition of Ariba in May 2012. It's not surprising, therefore, that many people assume that SAP Business Network is just a new name for Ariba, and that its focus is only on procurement. The truth is that SAP has always planned to expand the scope and value proposition of the commerce network it acquired. In my May 2013 post highlighting my takeaways from the Ariba LIVE 2013 conference ("Ariba: At the Intersection of Social and Business Networks"), I wrote the following:
"Ariba plans to expand into supply chain, logistics, and inventory management processes, with the first solutions coming out in 2014. No details were provided, but clearly SAP and its customer base will play an important role in defining the roadmap."
It turned out that "first solutions by 2014" was too optimistic and progress was slower than many had hoped. That said, the work to enable broader supply chain and logistics capabilities continued.
The next milestone came in June 2021 when SAP announced that it was taking "the first step toward creating the world's largest business network with SAP Business Network, which will bring together Ariba Network, SAP Business Network for Logistics and SAP Asset Intelligence Network. Over 5.5 million organizations will benefit from being members of this connected community."
Today, two years later, SAP Business Network is being integrated across a wide variety of SAP solutions, business processes (Procurement, Supply Chain, Logistics, Asset Management, Finance, Talent) and trading partners (Suppliers, Contract Manufacturers, Shippers & Carriers, Financial Institutions, Service Providers/Contingent Labor).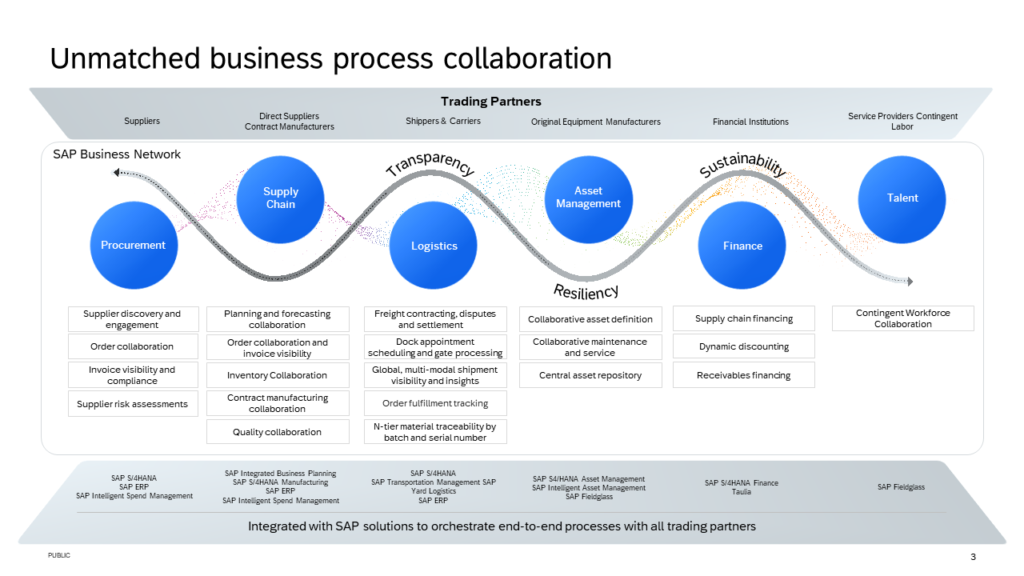 In a session titled "Network-Enable Your Supply Chain for Even Greater Value," Tony Harris, Chief Marketing & Solutions Officer, SAP Business Network, walked the audience through a video demonstration of "the range of typical scenarios that our Business Network customers and their trading partners use the network for every day." Here's a summary of the demo in Harris's words:
"We'll start by looking at a supply chain planner and how she needs to use the business network to share her demand forecast with a critical component supplier, effectively extending SAP Integrated Business Planning in the process. Then we'll see how the supplier is able to come on the network and confirm their ability to meet the forecasted demand. Next, we'll look at how the components are going to start their journey traveling across the ocean on a ship, and with the benefit of real-time visibility, we'll see how supply chain disruptions might impact that journey and change the expected time of arrival at the port. And finally, we'll look at how SAP Business Network can also support our customers in modeling their entire n-tier supply chain with all the components of a given product and also how the network can capture sustainability data related to those components."
As I highlighted last November in "Key Takeaways From SAP Logistics Info Days 2022," SAP is taking a "network-of-networks" approach to enabling certain capabilities, including freight networks, inter-enterprise networks, and visibility networks. For example, in April 2019, SAP and Uber Freight announced a partnership to provide customers with instant, real-time pricing data and access to a national network of freight capacity. SAP also has a partnership with project44 for global ocean visibility and B2B connectivity for truckload and less-than-truckload (LTL) freight contracting. 
The bottom line is that the scope of SAP Business Network today goes well beyond Ariba and procurement. This broader scope is not fully enabled yet, but as I note below, customers will help drive the roadmap moving forward. Also, based on the customer success stories I heard at the conference, it seems like many customers have started with one process first (such as procurement, logistics, or finance) and they are now looking to leverage the network in other areas. In short, they're applying the lessons learned from past software implementations by taking a phased approach to using the network instead of a "Big Bang" one.
SAP Business Network for Industry
During his keynote presentation, Christian Klein also introduced SAP Business Network for Industry with an initial focus on the Consumer Products, Life Sciences, High Tech, and Industrial Manufacturing industries.
Across these four industries, there are already more than 800K trading partners on the network processing over $700B in annual commerce. Here is an excerpt from the news release:
Each industry faces unique challenges that can't always be addressed with a one-size-fits-all approach…We developed capabilities including contract manufacturing, planning and forecasting, quality collaboration, stock transfers, support for supplier-managed inventory, material traceability, and track and trace. Several of these capabilities were developed alongside customers to answer unique industry challenges in a variety of industries.
SAP also introduced the SAP Business Network Industry Advisory Board, "a select group of industry leaders that will provide strategic direction for our product and road map, making sure we're meeting the needs of our customers and helping their businesses grow." And it introduced new industry services accelerators from its SAP Business Network Services team — "with prepackaged industry use cases and capabilities, implementation best practices, and dedicated post go-live support — to help expedite time to value and achieve success." SAP is working with Accenture on these accelerators (see "Accenture and SAP Collaborate to Deliver Transparent, Resilient and Sustainable Supply Chains on SAP Business Network").
The key takeaway here is that SAP is initially focusing on the industries where it already has a critical mass of connected trading partners and transactions on the network. This makes sense when you look at it from a network effects perspective. As Yossi Sheffi from MIT described it in a 2014 video:
"The network effect exists when the addition of another element [to the network] makes all the existing elements in the [network] better off. It's a positive feedback loop. As the network grows, the more value it provides. The more value [the network] provides, it grows even bigger. It's the economics of having an extra point on the network, and the fact that you can build a lot more services on the existing network, that's the power of the network."
In other words, SAP is focusing on the industries where "the power of the network" is already strong.
Enhancing the Business Value for Suppliers
What's in it for me?
That is the question all trading partners ask when it comes to joining a business network. On the procurement side, a lot of the value proposition has historically been focused on buyers, so they tend to join the network first and then invite/request their suppliers to join.
"A buyer is asking me to join" is not a compelling reason for sellers to join. Therefore, business network providers need to enhance the value they provide to suppliers too. In SAP's case, the company is rolling out new SAP Business Network capabilities for suppliers in the second half of 2023. These innovations include:
Supplier insights that give companies intelligence on their top performing products on SAP Business Network
Streamlined integration that makes it faster and easier for suppliers to connect with multiple customers on the network by leveraging existing integration configurations
Marketplace catalogs that let suppliers publish public product and service catalogs on the network to reach customers globally
Intelligent lead matching that connects suppliers with prospective buyers who are ready to purchase, eliminating the need for cold calling
Enhanced company profiles that make it easier for companies to highlight their business by promoting key certifications and sustainability credentials
In reality, "What's in it for me?" is the wrong question to ask, especially when it comes to participating in a business network. The better question to ask is "What's in it for We?" because a business network is the foundation for enabling truly collaborative business relationships across trading partners. Therefore, a different mindset is required. To quote from Kate Vitasek's book "Getting to We: Negotiating Agreements for Highly Collaborative Relationships":
The focus needs to be on developing evolving and mutually beneficial relationships that create shared value, solve mutual problems, and get both parties to a place of 'we' rather than the usual 'us vs. them' tug of war.
I'll end by repeating what I've said in the past: Marc Andreessen's famous quote that "Software is eating the world" needs to get updated. Today, it is more accurate to say that "Software and networks are eating the world" — especially in the supply chain and logistics world.