Competing on customer experience is the new battleground in business and supply chain management is a critical enabler.
That was the key message Doug Braun, CEO of BluJay Solutions (a Talking Logistics sponsor), delivered in his keynote presentation at the SOAR 2018 Customer Conference last month. He highlighted several quotes from client companies, including this one by John Venhuizen, ACE Hardware's CEO, from the company's 2017 Annual Report:
"For ACE, we believe continued success for the future requires…an ultra, hyper-convenient shopping experience that amazes both in and out of the store."
Delivering an enhanced customer experience is also becoming a differentiator in the software industry. "Our goal [at BluJay] is to help you provide a better customer experience to your customers," added Braun. "This involves more than just our software; it involves our partners and employees too. We all know the game is changing faster than ever. Companies that are great at driving customer experience are disrupting markets around the world."
Braun highlighted some of the ways that BluJay is working toward delivering an enhanced customer experience:
The company added over 300 new employees over the past year, bringing the total to over 1,300 around the world. "We are hiring to build on our global trade network vision, improve global support, and build the solutions that will help you [our customers] compete," said Braun.

The company introduced a common user interface (UI) and single sign-on capabilities across its solutions. While BluJay has more work to do in this area, it's an area the company remains focused on as it continues to bring together the capabilities of the companies it has acquired, including LeanLogistics and Blackbay.

The company announced

BluJay University and its new Learning Management platform

. As described in the press release, "BluJay University offers flexible options including self-paced workshops, e-learning, training videos, or instructor-led courses that range from beginner to advanced levels…The newly introduced LMS enables better control, tracking, and delivery of global training initiatives, making it easier for organizations to align training with business goals."
BluJay added over 500 customers in its last fiscal year (which ended March 31, 2018), with over $50 billion and over 2 billion transactions flowing through its Global Trade Network. Year-over-year revenues grew over 10 percent and customer satisfaction increased to 93 percent.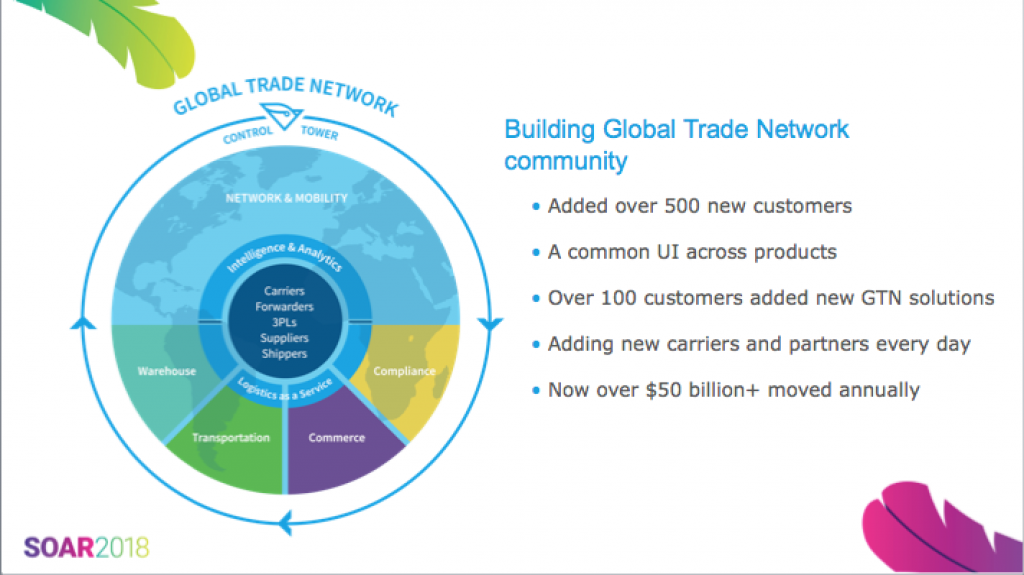 Instead of giving a keynote presentation this year, I brought Talking Logistics to the conference, where I conducted several video interviews with BluJay customers focused on — you guessed it — the growing importance of customer experience.
This slideshow requires JavaScript.
The interviews are a follow up to a research study I conducted this spring on behalf of BluJay focused on customer experience and supply chain innovation. The videos and the results of the study will be released soon, but here's one key finding from the study: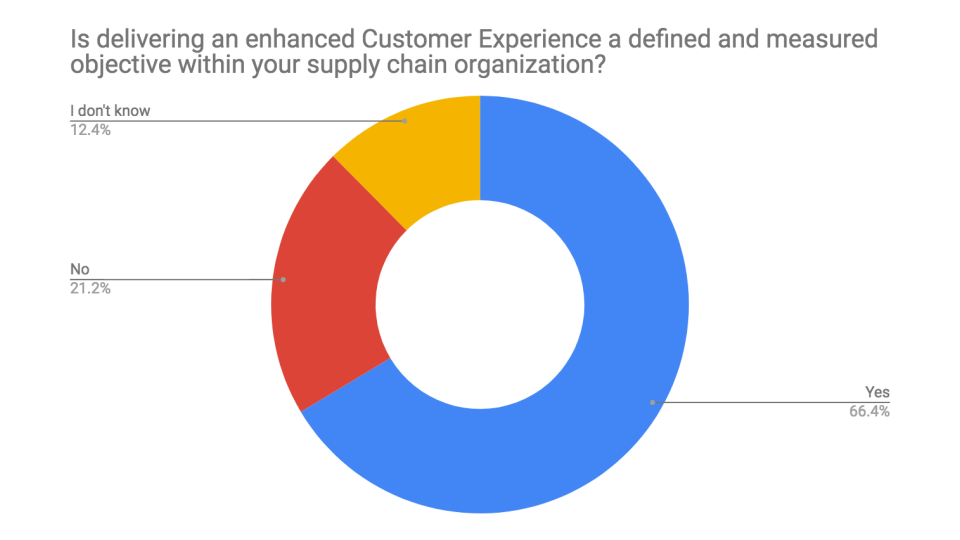 Two-thirds (66.4%) of the 137 survey respondents reported that delivering an enhanced customer experience is a defined and measured objective within their supply chain organizations.
There are two ways to view these findings: You can either say it's discouraging that many more companies aren't incorporating customer experience within their supply chain performance metrics, especially as the "Amazon Effect" ripples across all industries, or you can say it's encouraging that so many supply chain organizations are already focusing on customer experience because you had assumed the percentage would have been much lower.
Delivering an enhanced customer experience, however, was notably higher among respondents who view their overall supply chain performance as "Above Average" compared to those who view their performance as "Average or Below."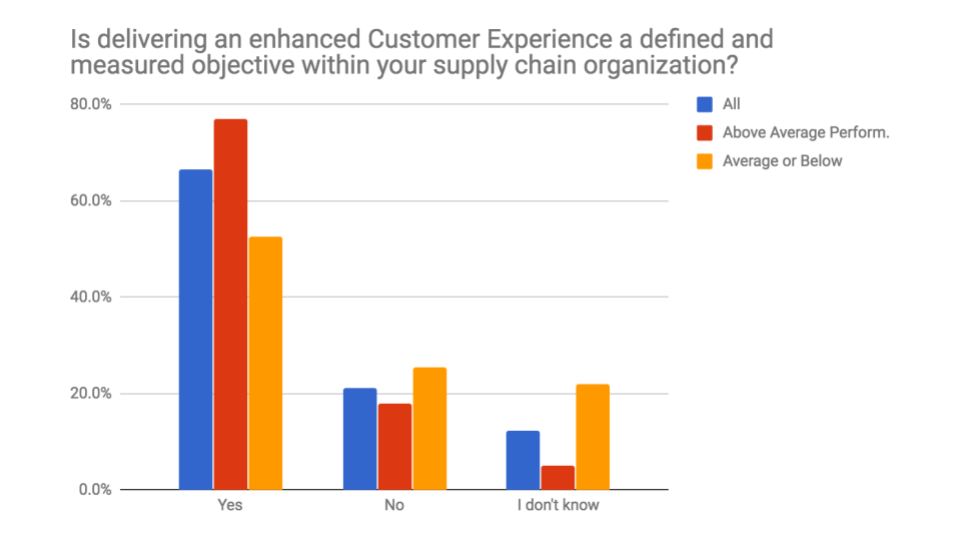 These results suggest that defining and measuring customer experience is one way that industry leaders differentiate themselves from the laggards.
I'll revisit this topic again once the research results are published. But in the meantime, I'll leave you with some of the questions I asked BluJay's customers at the conference:
Supply Chain Innovation means different things to different people. How do you define it?

From your perspective, which supply chain and logistics processes are in most need of innovation?

What do you see as the biggest barriers to enabling supply chain innovation?

Is delivering an enhanced customer experience a defined and measured objective within your supply chain organization? How do you measure it?

Which emerging technologies excite you the most in terms of their potential to drive innovation and deliver benefits to the industry?
How would you answer those questions? Post a comment and share your perspective!