Note: The following is an excerpt from "Omni-Channel Logistics Leaders: 5 Key Insights to Improve Inventory Performance for 2019," based on research conducted by Adelante SCM and LEGACY Supply Chain Services with input from nearly 100 supply chain professionals from retail, manufacturing, and logistics service providers companies in the United States and Canada. The research focused on the inventory visibility and optimization challenges that companies face today related to omni-channel fulfillment and the actions they should take to elevate their omni-channel performance.

As highlighted in our previous Omni-Channel Logistics Leaders report, many companies are still not performing to their full potential when it comes to omni-channel fulfillment, and they continue to experience challenges related to inventory visibility and optimization. In fact, two-thirds of the companies we surveyed characterized their omni-channel fulfillment performance (relative to peers in their industry) as average or below, with 30 percent characterizing it as below average.

In order to improve their omni-channel fulfillment performance, companies need to overcome several challenges that are currently hindering their ability to effectively optimize and manage their supply chain inventory. And it begins with improving their inventory accuracy.
The Inventory Accuracy "Confidence Gap"
Our 2018 study tells us a greater percentage of Above Average Performers have "High Confidence" in inventory accuracy across all supply chain nodes compared to Average & Below Performers. That said, as we further evaluate the data we find even Above Average Performers have significant room for improvement.
For example, both Above Average Performers and Average or Below Performers have the best visibility and highest confidence in inventory accuracy at their own distribution centers (or those operated on their behalf by third-party logistics partners). But neither group is close to 100 percent confident, as the chart below illustrates.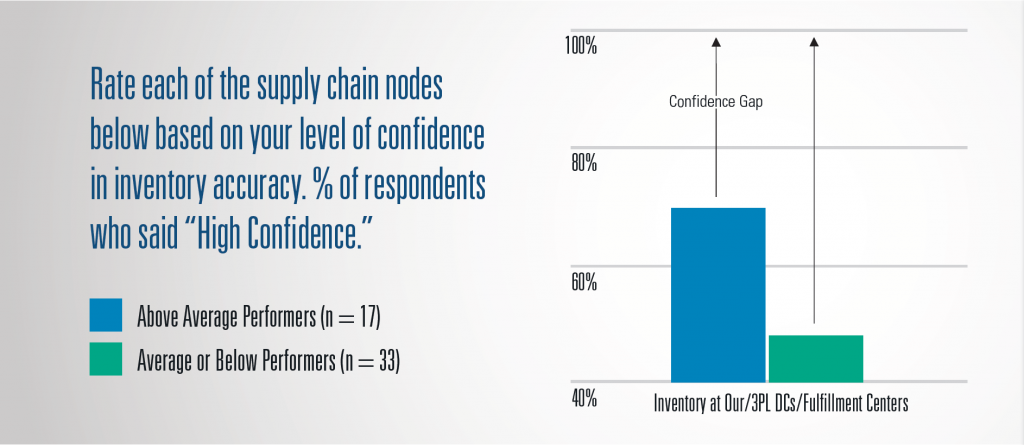 What are the main causes of this "confidence gap" in inventory accuracy?

Per our survey results, the top two reasons are not having an integrated/consolidated view of inventory across the supply chain and relying on manual data capture processes. This was true for both Above Average Performers and Average or Below Performers.

The reality is that inventory data is spread out across multiple systems, multiple trading partners, and multiple locations. Aggregating, normalizing, and cleansing this data from across the supply chain (in real time or near real time) is not a trivial task. It takes a lot more time, money, and resources to accomplish than simply investing in "supply chain visibility" software.

Complicating matters is the fact that many companies still rely on manual processes to capture inventory data. Our survey results align with the findings from the WERC DC Measures 2018 Study:

In 2018 almost 35% [of the 549 survey respondents] are still not using a WMS [warehouse management system] to manage the warehouse. Relying instead on manual means such as Excel and disparate modules to run individual warehouse functions. Even 1970s technology hasn't been fully adopted by many facilities, with 24% not using bar codes and RF scanners.

Simply put, it will be very difficult for companies to close the confidence gap in inventory accuracy if they continue to rely on Excel spreadsheets to manage their fullfilment warehouses instead of using RF-enabled WMS and other automated data capture systems. .

For more research results, including insights on the role and importance of distributed order management (DOM), download the full report.