I don't remember many of my dreams, but this one I remember because I was dead.
Per my instructions, a boom box (circa 1986) was placed in my casket with fresh D batteries and a Depeche Mode mixtape in it. Before being laid to rest, someone pushed the play button and turned the volume all the way up. Whenever anyone came to visit my grave, even years later, they would swear they could hear "Black Celebration" playing through the dirt and roots six feet below.
Yes, Depeche Mode is my favorite band of all time, and they were finally inducted into the Rock and Roll Hall of Fame this week. 
"I'll drink to that."
Moving on, here's the supply chain and logistics news that caught my attention this week:
Transplace Acquires Lanehub: An Evolution in Collaborative Shipping
One of the first episodes we did on Talking Logistics, way back in January 2013, was titled "Transportation Collaboration: Optimizing Freight Costs By Sharing Capacity." It featured Sonney Jones (from Dal-Tile Corporation at the time) and Ben Enriquez (Transplace Mexico) discussing the collaborative transportation project that earned their team, which also included members from Whirlpool and Werner Ladder, the Council of Supply Chain Management Professionals' (CSCMP) Supply Chain Innovation Award at its 2012 annual conference.
I encourage you to watch the episode for the full story, but here is what Sonney said in the CSCMP press release:
"Improving weight or cubic capacity utilization is a challenge many shippers face," Jones said. "Partnering with like-minded businesses has allowed Dal-Tile to bring its shipments much closer to absolute capacity optimization, and realize financial and environmental benefits without sacrificing service. Collaborative consolidation of Dal-Tile's high density freight with other shipper's low density freight onto the same vehicle has reduced the demand for transportation resources by 60 percent on applicable lanes, netting cost reductions of 10-25 percent while reducing our carbon footprint." 
In the fall of 2013, Transplace (a Talking Logistics sponsor) announced the expansion of its TransMATCH co-shipping service that "offers the opportunity to consolidate freight through collaboration with multiple shipper companies and increase delivery frequency to targeted customers without increasing costs."
In short, Transplace has been focused on collaborative shipping for many years, and the company took another step in enhancing its capabilities in this area by acquiring Lanehub this week. Here are some details from the press release:
Lanehub is a cloud-based platform and community that encourages shipper-carrier collaboration by automatically identifying and connecting companies with complementary freight lanes to save on shipping expenses. The software focuses on matching recurring freight lanes on a consistent basis, in an effort to reduce transportation cost, increase fleet revenue, and improve overall carrier service and performance.

Lanehub's collaboration network currently includes over 150 shipper members, 250 carrier members, 180,000 lanes, and over $23 billion in truckload spend. To date, Lanehub customers have 26 million matches within Lanehub's network. The acquisition is effective immediately and benefits both Transplace's and Lanehub's customers by giving them access to transportation technology and strategic management through the resources of the newly-combined organization.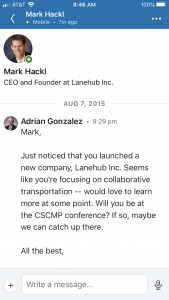 I've been following Lanehub since its early days. Back in August 2015, I reached out to Mark Hackl, Lanehub's CEO and Founder, via LinkedIn when I noticed he had launched this new company. We met at the CSCMP conference a few weeks later where he shared with me the vision for Lanehub and how the company planned to build a community of shippers and carriers and use technology and analytics to facilitate collaborative shipping.
I was very impressed by the technology, but to be honest, I was a bit skeptical whether it was enough to overcome the historical challenges associated with collaborative shipping — such as how to deal with exceptions (e.g., one of the shippers cancels a pickup) and determining how to equitably share risks, costs, and savings across all the participants. Those are the types of details that often cause collaborative shipping arrangements to fall apart (or never get off the ground), especially if shippers try to collaborate directly with each other. In my experience, the most successful collaborative shipping case studies almost always involve a third-party logistics provider (3PL) or other neutral party to not only identify the matches, but manage the execution process too.
Lanehub, however, had one advantage that many other technology startups in this industry lacked: a founder with true transportation management experience. Prior to launching Lanehub, Mark Hackl was a Transportation Manager at Georgia Pacific for almost 9 years, VP of Sales at Veriha Trucking for almost 3 years, and a Transportation Business Manager at Schreiber Foods for almost 6 years (among other positions). Simply put, Mark understands the opportunities that exist in transportation management to improve productivity and efficiency, as well as the pitfalls and hurdles that often get in the way. In my opinion, in addition to the technology, it's Mark's knowledge and experience in the industry that enabled Lanehub to succeed.
In a soon-to-be-released Talking Logistics episode, I spoke with Ben Cubitt, Senior Vice President Procurement and Engineering at Transplace, on "Dynamic Continuous Moves: New Opportunities for Innovation in Transportation Management." Stay tuned for the video and the write-up. The main takeaway is that when you couple advancements in technology, including real-time freight visibility solutions and machine learning, with a very large network of shippers, carriers, and freight transactions, you're able to identify, plan, and execute collaborative shipping in more efficient and smarter ways than ever before. The addition of Lanehub augments and strengthens Transplace's experience and capabilities in this area.
And with that, have a happy weekend!
Song of the Week: "Black Celebration" by Depeche Mode