What traditional supply chain practices or concepts ("the way we've always done things") do you believe companies must unlearn to succeed moving forward?
We asked our Indago supply chain research community that question this week. They will receive the results later today. I will also share some of the results this coming Tuesday (June 16 at 11:15 am ET) at the Logistics Industry United Against COVID-19 Summit produced by GLT Logistics.
The virtual event benefits the American Logistics Aid Network, one of the charities we support via Indago. I encourage you to attend my session titled "Unlearning Supply Chain Management: The First Step to Becoming a Successful Company of Tomorrow," as well as the many other great sessions scheduled over the three days. I look forward to it!
In the meantime, here's the supply chain and logistics news that caught my attention this week:
Descartes Acquires Kontainers: Competing on Customer Experience
"Customer experience is becoming the #1 brand differentiator."
That was one of the key findings from last year's research study on supply chain priorities and investments that we conducted in partnership with the Council of Supply Chain Management Professionals (CSCMP) and BluJay Solutions (a Talking Logistics sponsor).
Overall, 61% of the survey respondents Agreed or Strongly Agreed that "Over the next five years, customer experience will overtake price and product as the No. 1 brand differentiator."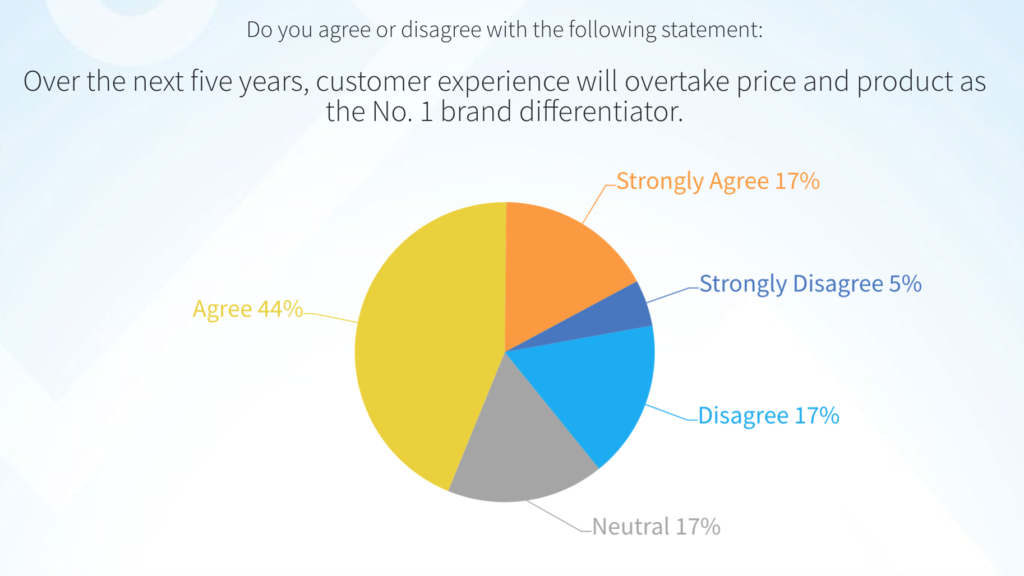 This was particularly true for Logistics Service Providers (LSPs). When asked What are the top three factors driving supply chain innovation at your company today?, the number one response was "To deliver an enhanced customer experience." It received 38% of top-factor votes from LSPs — a noticeable 21% increase from 2018's survey.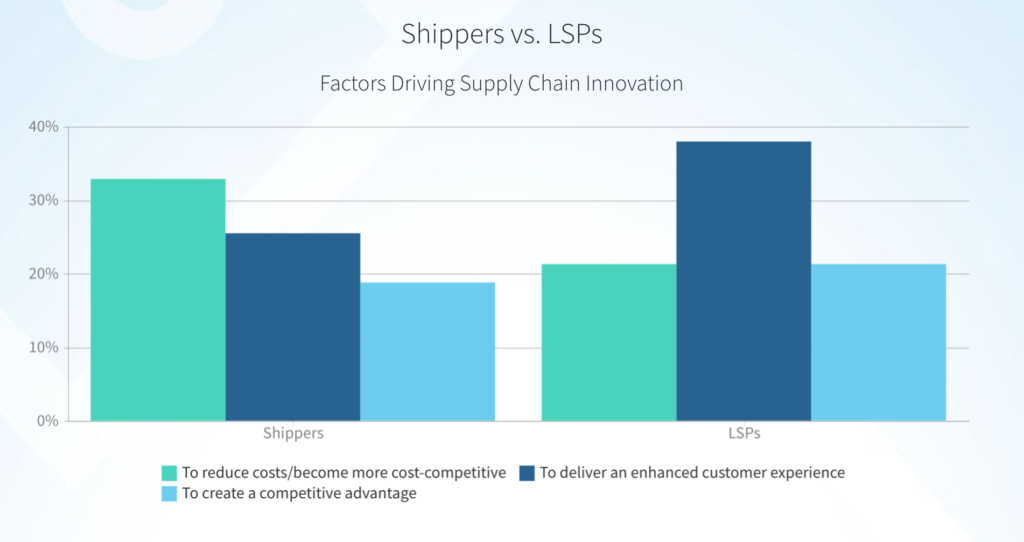 All of this helps to explain the value proposition of Kontainers and why Descartes acquired them this week. Here are some details from the press release:
Headquartered in the UK, Kontainers transforms the customer experience for carriers, freight forwarders and third-party logistics service providers around the world. Kontainers' solutions facilitate a fully digital customer experience including quoting, booking, tracking and dashboard analytics. The company's digital freight platform enables these logistics services providers ("LSPs") to rapidly create branded state-of-the-art digital experiences for their end customers. Kontainers' technology also helps API-enable LSPs while preserving their investments in existing rate management and back-office systems.

"The last few months have shown how quickly the world can change, and the shift to digitization is accelerating as a result," said Edward J. Ryan, Descartes' CEO. "Logistics services providers operate on tight margins. Those that don't move quickly to digitize their customer experience will be faced with higher costs to serve. Without the proper real-time connections between client-facing platforms and the quoting, rating and booking systems that this digitization brings, LSPs will struggle to efficiently meet customer demand in today's dynamic market. We're looking forward to working with the Kontainers customers, partners and team of domain experts to help the logistics community capitalize on this opportunity."
There are parallels between this acquisition and Descartes' acquisition of MacroPoint a few years ago. In both cases, the acquired companies were not looking to disintermediate existing freight forwarders and brokers, but to make them more efficient and productive — and more competitive against newer, tech-savvy entrants. Descartes already has a strong presence in the freight forwarding market, so this acquisition complements its existing solution footprint for logistics service providers and provides a good cross-sell opportunity. The question at the moment, in light of the pandemic, is whether freight forwarders are looking to invest in technology to emerge stronger down the road or if they're in full cost cutting survival mode right now.
E2open introduces "Visibility For All"
Is visibility a feature of an application/network platform or is it an application/network platform itself?
For E2open, it's the former. The company announced this week "that all clients can add In-Transit Visibility to their current subscription for no additional cost." Here are some details from the press release:
E2open's global clients can now locate an unlimited number of shipments at no incremental cost across all modes, all geographies, all stops and with ETAs. By including this solution within the client's existing subscription at no cost, E2open removes a significant barrier to the widespread use of real-time in-transit data to improve global logistics performance, achieve better business outcomes and help companies take an important next step towards digital transformation. Visibility For All™ natively integrates to all E2open applications, allowing each to drive additional value for clients.
Last year in "TMS Visibility: See, Observe, Then Do," I wrote that "Visibility by itself is not enough. Yes, seeing is believing, and having access to data you didn't have before is powerful — but only if you do something with it, which is where transportation management systems (TMS) come in." E2open echoes this point in its press release:
However, the full transformative value is realized when clients connect in-transit visibility data to planning and execution applications – to understand the business impact of delays or early arrivals on production and fulfillment plans and proactively take corrective actions such as diverting or expediting loads.
In the transportation realm, TMS vendors have been partnering with multiple real-time freight visibility providers over the past few years. Shippers that want real-time freight visibility have to contract and pay separately for the service. Last July, however, Transplace (a Talking Logistics sponsor) "raised the bar" by partnering with Descartes MacroPoint and "providing real-time visibility as a standard feature, without any extra transaction or integration fee, for all of its managed transportation services and Transportation Management System (TMS) customers." You can say that E2open has raised the bar again with this announcement.
Will E2open, and perhaps other network-based platforms, disintermediate existing real-time freight visibility providers? The market will ultimately decide. If customers can truly get the multi-mode, multi-geography visibility (and associated BI and analytics) they want and need from a single vendor at no additional cost, then existing providers will have to augment their value proposition to survive. But like the old days of ERP vs. best-of-breed, if the latter is able to provide more in-depth and sophisticated visibility and analytics capabilities, then customers will continue to pay for the added value. Time will tell.
And with that, have a happy weekend!
Song of the Week: "The Cutter" by Echo & The Bunnymen