This is the time of year when analysts make predictions about the coming year. As I've said in the past, making supply chain and logistics predictions is like throwing darts at a moving target: sometimes you get lucky and hit the mark; other times you miss the bullseye by a mile.
2020 was nothing like what we all imagined it would be this time last year. We missed the mark by way more than a mile.
Nobody predicted how a global pandemic would transform every aspect of our lives.
Panic buying of toilet paper? Nobody saw that coming. Three years of e-commerce growth squeezed into seven months? Nobody predicted that either. Facemasks, social distancing, contactless pickup and delivery, working from home, the cancelation of industry conferences, so many lives lost and livelihoods too — none of it predicted.
What will 2021 bring? Surprise me, I say.
And that is the main takeaway from this year. Or, more accurately, the main reminder: life is unpredictable. It is full of surprises, both good and bad ones.
What does this mean for supply chain and logistics professionals? It means that those adjectives you've been hearing about for so long — flexible, adaptable, agile, responsive, resilient — aren't just words any more. They must be the guiding principles of your supply chain strategy and capabilities moving forward.
A Heartfelt Thank You
Adelante celebrated its 10th anniversary last month. Aside from our very first year, when making payroll and paying our bills was a monthly struggle, the first half of 2020 was the most challenging time we've ever had. Like many businesses, especially small ones, the pandemic disrupted our business and created financial strains. Yet, thanks to the support of many of our clients, especially those that have partnered with us since day one, we were able to navigate through the downturn and end the year much better than we expected back in March.
So, to our clients, a heartfelt thank you for your continued trust and support. We look forward to continuing our partnership and collaborating with you in the coming year.
Talking Logistics: By the Numbers
A big thank you to all of our Talking Logistics readers, subscribers, and followers for another great year of learning and conversation. The numbers speak for themselves:
33 episodes produced in 2020, totaling more than 1,000 minutes of conversations with thought leaders and newsmakers in the supply chain and logistics industry.

216 posts published on a wide range of timely and important industry topics, including the most comprehensive weekly news roundup in the industry and thought-provoking and insightful guest commentaries from our sponsors.

More than 255,480 followers on LinkedIn, Twitter, and YouTube combined, including CXOs, VPs, and Directors across many vertical industries and geographies.

200 podcasts on iTunes of our past episodes.
Below we highlight the top posts from this past year. Not surprising, many of them focused on the COVID-19 pandemic and its impact on supply chain and logistics.
Indago: Research with Purpose
Thank you also to all of the supply chain and logistics practitioners in our Indago research community. We completed 34 surveys this year on a wide variety of industry topics and donated almost $3,000 to JDRF, American Logistics Aid Network, American Cancer Society, Feeding America, and Make-A-Wish.
We conducted our last survey for the year last week. Here was the question: "The COVID-19 pandemic has sparked a lot of trends. Do you believe the trends below will increase, decrease, or stay the same in 2021 compared to today?"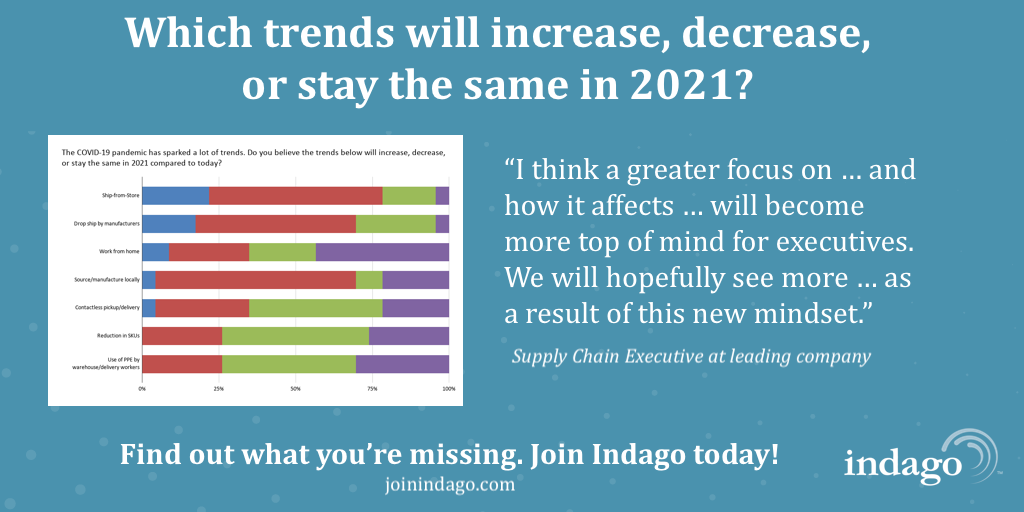 If you're a supply chain or logistics practitioner, find out what you're missing and Join Indago Today! You can also follow Indago on LinkedIn.
Here is a list of the other research topics we explored in Q4 2020.
Transportation Procurement (October 2020): Do you agree or disagree that the time had come to transform transportation procurement?
Demand Sensing (October 2020): Do you agree or disagree that demand sensing is going to play a much bigger role in integrated business planning moving forward?
Supply Chain Election Issues (October 2020): Regardless of who wins the election, which supply chain related issue/policy should the government focus on first?
Freight Audit & Pay (November 2020): Are you outsourcing your freight audit and payment processes to a third party? Why or why not?
New Transportation Modes (November 2020): Which of the following new transportation modes in development do you believe will gain the most traction and deliver the most business benefits by 2030?
Transportation Management Improvement Opportunities (November 2020): How much room for improvement do you believe still exists in the way transportation processes are currently designed and managed? What are your top desired outcomes from future improvements?
Price Optimization (December 2020): Is your company using price optimization software to set, analyze, and adjust prices over time to improve profitability? How would you characterize your company's current approach to pricing?
2021 Predictions (December 2020): Is your company using price optimization software to set, analyze, and adjust prices over time to improve profitability? How would you characterize your company's current approach to pricing?
See here for the research questions Indago explored in Q3 2020, and here for the research questions from the first half of 2020.
Logistics Leaders for T1D Cure Team
Despite all of the challenges caused by the pandemic, our Logistics Leaders for T1D Cure team raised $29,644 this year in support of JDRF and its quest to turn Type 1 Diabetes into Type None. This brings our total to over $254,000 since 2016!
A big thank you again to our 2020 team sponsors BluJay Solutions and Descartes Systems Group for their support.

Interested in joining our team in 2021? Please contact me. Cyclists of all abilities welcomed! Whether we ride in person or virtually, we have some fun plans for the year ahead. Stay tuned!
Top Talking Logistics Posts and New Episodes
We have many exciting new things planned for 2021, so stay tuned! In the meantime, in case you missed them the first time around or want to watch/read them again, below are the most popular Talking Logistics posts we published this year and the new episodes we aired in Q4. I encourage you to share this list with your colleagues, as well students, young professionals, and others who might be interested in joining our growing community. They can sign up for our email and follow us on Twitter, Facebook, LinkedIn, YouTube, and iTunes to stay informed about upcoming episodes and to read our blog posts on industry trends and news.
Again, thank you for making this another fun and rewarding year on Talking Logistics and Indago. Happy Holidays and I wish you all continued health, happiness, and success in 2021.
Top 10 Talking Logistics Posts in 2020
Talking Logistics Video Episodes (Q4 2020)
Note: It's difficult for us to rank our video episodes because many of them are hosted by our sponsors and we don't have visibility to their views. Therefore, instead of a ranked list, below are the episodes we aired during the fourth quarter of 2020. For the rest of the episodes we aired this year, see our Q1 & Q2 2020 and Q3 2020 posts and our episode archive.
Note: Talking Logistics will be on holiday from December 22 – January 1. We will be back on January 4, refreshed and ready to go for another year of sharing insights and advice about what's happening in the world of supply chain and logistics. Until then, here's our final Song of the Week for 2020, "Shake Me Down" by Cage the Elephant.