Not all 50F days are the same.
Here in Boston, and I assume in other cold climate cities too, when the temperature reaches 50F this time of the year, especially in February, it's t-shirt and shorts weather.
Yet, when the weather dips to 50F in September, it's time to put on a sweater or sweatshirt.
Same outdoor temperature, yet different responses depending on where we are on the calendar.
It's the Theory of Relativity. Well, not really, but kind of.
Anyway, here's the supply chain and logistics news that caught my attention this week:
President Biden "to strengthen the resilience of America's supply chains"
In light of the pandemic, it is not surprising that supply chain resilience is back in the spotlight.
I wrote that back in November 2020 in "Supply Chain Resilience: Back In The Spotlight." Resilience was also one of the topics we explored in "Creating Resilience Amid Disruption: 2020 Supply Chain Market Research," a research study we conducted last summer in partnership with the Council of Supply Chain Management Professionals (CSCMP) and BluJay Solutions (a Talking Logistics sponsor). More than a third of the supply chain professionals we surveyed expected their companies would make Many or Extreme changes in how they design and operate their supply chains to become more resilient. Overall, 75% of the respondents expected to make at least moderate changes.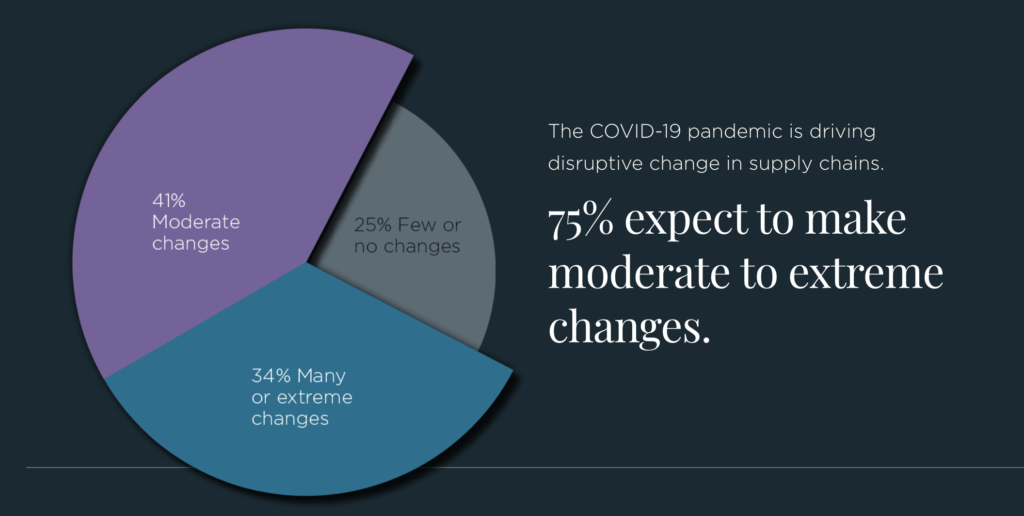 What does supply chain resilience mean? "For companies, resilience measures their ability to, and the speed at which they can, return to their normal performance level following a high-impact/low-probability disruption," explains Dr. Yossi Sheffi from MIT in his 2005 book, The Resilient Enterprise. At the end of the book, Sheffi writes:
"Thinking about disasters as opportunities and using disaster preparedness to increase resilience are the essence of making lemonade from lemons…The advantage of creating resilience is that […] it is a characteristic that gives enterprise buoyancy in the wake of any disruption, increasing its day-to-day flexibility to respond to a world that is changing fast and becoming ever less certain."
Looking at the pandemic as an opportunity to increase resilience, President Biden announced this week via an executive order that "it is the policy of my Administration to strengthen the resilience of America's supply chains." Here are some excerpts from the executive order:
The United States needs resilient, diverse, and secure supply chains to ensure our economic prosperity and national security. Pandemics and other biological threats, cyber-attacks, climate shocks and extreme weather events, terrorist attacks, geopolitical and economic competition, and other conditions can reduce critical manufacturing capacity and the availability and integrity of critical goods, products, and services. Resilient American supply chains will revitalize and rebuild domestic manufacturing capacity, maintain America's competitive edge in research and development, and create well-paying jobs. They will also support small businesses, promote prosperity, advance the fight against climate change, and encourage economic growth in communities of color and economically distressed areas.

More resilient supply chains are secure and diverse — facilitating greater domestic production, a range of supply, built-in redundancies, adequate stockpiles, safe and secure digital networks, and a world-class American manufacturing base and workforce. Moreover, close cooperation on resilient supply chains with allies and partners who share our values will foster collective economic and national security and strengthen the capacity to respond to international disasters and emergencies.
There is a lot to unpack here, which I don't have the time or space to do today. I'll just say that this has been a long overdue process.
"Rare Earth Element supply is a supply chain risk management issue, with national security implications…If President Obama and Congress are betting our future on building a green economy, I hope they understand that it's most critical components are Made in China."
I wrote those words way back in 2009 in a post titled "Our Green Economy is 'Made in China'." I highlighted the topic again in a 2012 post titled, "Supply Chain Lessons From Rare Earth Dispute With China."
For more than a decade, I've been highlighting how many companies continue to fall short on supply chain risk management. For related commentary and insights on this topic from our Indago supply chain research community, see "Coronavirus: Supply Chain Risk Management Back In Spotlight."
The fact that many companies have not made the investments to properly map their supply chains is another related problem, as I wrote about recently in "VF Corporation: Supply Chain Mapping" and last September in "Supply Chain Mapping (Insights from Indago)."
All that said, reconfiguring supply chains is easier said than done. As I wrote back in 2019 in "Manufacturing In The US: Past The Point Of No Return?":
Over the past three decades, supply chains have become more global and fragmented, with offshoring and outsourcing (the two are not the same) becoming more prevalent. How long would it take to rebuild "the ecosystem of engineering skills, production know-how and comprehensive supply chains" in the United States to bring manufacturing back? Would consumers be willing to pay more for certain products in the interim? Will Wall Street and investors, with their short-term focus on quarterly results, support or penalize companies redesigning their supply chains? Are we past the point of no return?
(For related commentary, including insights from our Indago community, see "Will COVID-19 Lead To More U.S. Manufacturing?")
Maybe we're not past the point of no return yet in certain industries, such as medical supplies and pharmaceuticals, in light of the challenges we've experienced in procuring personal protection equipment, ventilators, and other critical items. I believe we'll see more diversification in where those goods are manufactured and sourced from, including increasing manufacturing capacity here in the United States. But it will take time, money, and patience.
And with that, have a happy weekend!
Song of the Week: "Feeling Ok" by Best Coast