My cousin shared a photo of our moms recently on Facebook. It was taken circa 1968, when my mom and aunt both worked at the Sweet'N Low factory in Brooklyn, NY. That's my mom on the lower right:
She is 20 years old, the same age as my oldest daughter is today. Two years later, after meeting and marrying my father, she would give birth to me.
A young woman, bride, and mother, who left Cuba with her parents and siblings (except for one) to escape the evils of communism and begin again.
It was the first of several new beginnings, including when my father died almost 13 years ago.
I haven't seen my mom since August due to the pandemic, but I am going to see her this week and spend a few days with her.
Another beginning.
—
Here's the supply chain and logistics news that caught my attention this week:
A Very Challenging Transportation Market
Last month, we asked members of our Indago supply chain research community, "How would you characterize the current truck transportation market in the U.S. in terms of meeting your cost and capacity expectations?" Almost two thirds of our member respondents — who are all supply chain and logistics executives from manufacturing, retail, and distribution companies — characterized the current truck transportation market in the United States as "Very" (45%) or "Extremely" (20%) challenging. Another 30% characterized it as "Moderately" challenging.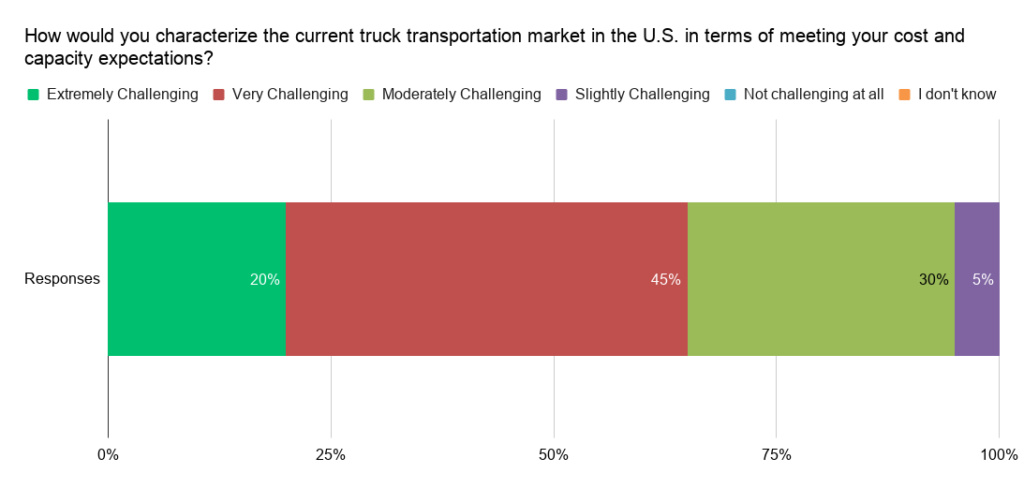 Simply put, shippers are finding it difficult to manage rates and capacity in the current truck transportation market. As one Indago member put it:
"The transportation market remains challenging for shippers as capacity has not caught up with freight volumes. Q1 did not have the typical seasonal slack and while I'm expecting a return to 'normal' post-pandemic, I don't think it is out of the question that market conditions stay the same through the end of the year."
It's certainly not out of the question based on this week's news. As Jennifer Smith reports in the Wall Street Journal:
Freight industry executives expect a squeeze on trucking capacity that has been driving up shipping costs for U.S. companies to persist through the rest of the year, as strong demand in a rebounding American economy collides with a shortfall in truck availability.

"There's more freight than trucks, or maybe I should say, than drivers," David Menzel, chief operating officer at freight broker Echo Global Logistics Inc., said in an earnings call Wednesday. "The ports are backlogged, demand is strong, so rates are high. On the other hand, shippers are dealing with high rates, tight capacity and disrupted supply chains."
Carriers are ordering trucks in large numbers to add capacity. According to FTR Transportation Intelligence, "preliminary North American Class 8 net orders for April were 34,600 units, continuing to exhibit strength above normal trends. It was the best April order activity since 2018. Orders were down 15% m/m but 30,500 units above April 2020 [emphasis mine]. Class 8 orders now total 403,000 units for the previous 12 months."
However, finding drivers for those trucks is arguably the bigger constraint. According to ACT Research, as reported by DC Velocity, "The pool of truck drivers in the U.S. labor market hit a new low in March, further tightening transportation market tensions as the economy continues its swift recovery from pandemic restrictions."
Shippers are also dealing with high rates and capacity constraints on the ocean front too. "Strong demand coupled with significant operational challenges such as bottlenecks, lack of capacity and equipment shortage in global supply chains drove freight rates up significantly," states Maersk in its Q1 2021 earnings report issued this week. And additional rate increases are on the horizon, as Mike Wackett reports in The Loadstar:
Shippers are bracing for a further broadside of rate increases in June across multiple trades, as ocean carriers beef up profits ahead of the peak season.

After a period of stability, following hikes of up to 200% in the second half of last year, transpacific carriers are rolling out a raft of new GRIs, effective 1 June.
What actions are you taking to better manage your trucking capacity needs and costs? Our Indago members shared their ideas and advice with each other (the report is available to members only). The reality, however, is that there's only so much you can do. As I wrote last week in What We Need (More Of) Now In Logistics, "Yes, data and software are important — but no amount of AI and machine learning can solve the physical constraints that exist in supply chains today."
It's going to be a grind this year.
BluJay to Acquire Raven Logistics
For a long time, parcel and rail were the forgotten (or, more accurately, ignored) modes of transportation management systems. Of course, with the explosive growth of e-commerce, parcel is now the darling of TMS. Rail, for the most part, has remained ignored.
Until now, that is.
Last October, for example, PINC acquired RailcarRx®, "a provider of a comprehensive suite of rail industry software solutions and services." And this week, BluJay Solutions announced it has signed a definitive agreement with Raven Logistics "to acquire 100 percent of the rail TMS and managed services company." Here are more details from the press release:
Raven is a leading logistics management company focused on rail transportation, offering a railroad SaaS solution and managed services for the North American shipper market.

Raven offers shippers a best-in-class solution that includes the industry's leading rate optimization tool, with data flowing seamlessly from rating, to billing, tracking, and demurrage to audit and pay, for both inbound and outbound transportation. Complex, multi-leg, Rule 11 routes are a challenge for many rail shippers but not for Raven TMS customers.
As noted above, this is a technology + managed services deal, so it will extend not only BluJay's TMS software capabilities but also its managed transportation services offering.
Is rail finally getting the attention it deserves?
And with that, have a happy weekend!
Song of the Week: "Back To Life" by Soul II Soul