There seems to be a growing trend of supply chain technology companies sponsoring sporting events and athletes.
Earlier this week, for example, project44 announced that it is "entering into its first NASCAR sponsorship with Rick Ware Racing and BYRD Racing."
Back in February 2019, Blue Yonder (JDA at the time) began its sponsorship of golfer Jon Rahm, who last month won the U.S. Open.
How did this trend begin? I don't know for sure, but I'd like to believe that we helped start it.
Back in 2016, we launched our Logistics Leaders for Type 1 Diabetes Cure cycling team. It began with a big audacious idea: assemble a team of riders from a select group of logistics companies to join me for a 102.7-mile bike ride in Death Valley, California to benefit JDRF, the leading non-profit organization focused on T1D research. What started out as an idea became a reality thanks to the generous support of our founding sponsors: BluJay Solutions (LeanLogistics at the time), Descartes Systems Group, Elemica, and MercuryGate.
Here are some team photos from over the years:
We've had other industry leaders sponsor our team in subsequent years, including C.H. Robinson (2017-2019) and enVista (2019), and we've received donations from many friends in the logistics industry. Thanks to everyone's generosity, we have raised over $254,000 for JDRF since 2016!
Logistics Leaders for T1DCure Team 2021
Our team is back on the roads in 2021 and I am happy to announce that BluJay Solutions is back as a Century Team Sponsor for a sixth consecutive year! We also have a number of returning riders, including Kelly McCauslin and James Coon from BluJay Solutions, Steve Wallace from Elemica, Joseph Tillman from Tsquared Logistics, and Ralph Cisneros from Intel.
As I shared a few weeks ago, because it's been 10 years since my oldest daughter was diagnosed with T1D and finding a cure is more urgent than ever, I am raising the bar on my personal goals for 2021: I plan to do five century rides this summer and raise more than $30K. Together with my wife Leslie, I completed my first century ride of the summer last Saturday in the pouring rain.
Like last year, our LL4T1DCure team won't be getting together at a traditional JDRF in-person ride due to the pandemic. But several of us will be riding together at the Gran Fondo Hincapie in Greenville, SC on October 23. It will be a grueling 83 miles with almost 8,100 feet of climbing! The mountains on this course are the ones professional cyclist George Hincapie used to train on in preparation for the Tour de France. Here's the mountain that is already causing me to lose some sleep: Skyuka Mountain (4 miles, 1,813 feet, 8.7% grade).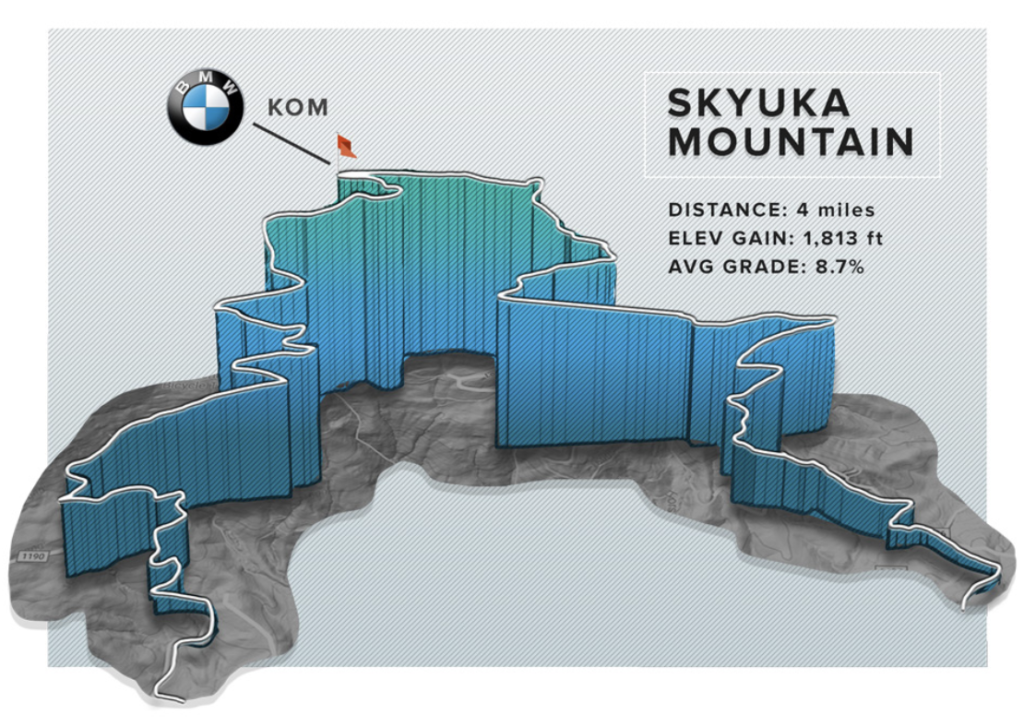 Whether we ride together as a team or individually at our respective locations, the mission remains the same: to cycle with purpose, so that every mile we cover and every foot we climb gets us closer to a cure for type 1 diabetes!
A Team with a Higher Purpose
Okay, so we're not NASCAR or professional athletes, but if you're a supply chain technology company or logistics service provider looking to sponsor a team, why not sponsor one with a higher purpose: a team with a mission to help find a cure for Type 1 Diabetes, a disease that is affecting a rapidly growing number of children and adults around the world.
We have a variety of team sponsorship packages available, which include recognition on team website and social media, logo placement on team apparel, Talking Logistics deliverables, and other benefits. If you're interested in learning more, please contact me. All sponsorship money goes to JDRF!
Join Our Team
If you're a supply chain or logistics professional who enjoys cycling, please consider joining our team (cyclists of all abilities welcomed). There is no cost to sign up and no minimum fundraising requirement. However, since the primary goal is to raise money for JDRF and the various research projects and programs it supports, we expect our team members to participate in helping us reach our fundraising goal. JDRF provides incentives for reaching certain fundraising levels (beginning with $150), and our team also offers incentives, such as earning a team jersey (below is last year's jersey).

To learn more about JDRF Ride and sign up, please visit the website. When you register, please select "Logistics Leaders" as your corporate team.
If you just prefer to make a tax-deductible donation to help the cause, you can do so via my rider page.
Finally, you can support JDRF by joining Indago, our supply chain research community. It's a win-win value proposition: you receive valuable market research that helps you make smarter business decisions, while JDRF receives valuable donations that help it make a difference in people's lives.
—-
Okay, now let's go to the supply chain and logistics news that caught my attention this week:
Uber Freight & BlueGrace Logistics Partner on LTL
Suddenly, less-than-truckload (LTL) is getting some love and attention.
Last week, for example, I highlighted how Knight-Swift Transportation was getting into the LTL business by acquiring AAA Cooper. And now this week, Uber Freight announced that it has partnered with BlueGrace Logistics to expand "into less-than-truckload (LTL) freight, providing shippers with a single platform to support their full truckload and LTL needs — furthering our goal of becoming a one-stop-shop solution for shippers." Here are more details from Uber Freight's blog post:
Uber Freight's LTL offering will [allow] shippers to manage all their freight needs through one single portal. By opening up the shipper platform to support LTL, we've given shippers a direct connection to our growing and reliable marketplace of full-truckload carriers and a leading group of LTL carriers, offering real-time access to market prices and capacity. Shippers can also utilize LTL loads as an environmentally-friendly shipping option to promote sustainable strategies across their businesses.

To bring an LTL solution to market quickly and reliably, Uber Freight is leveraging technology infrastructure and LTL expertise from BlueGrace Logistics, one of the largest third-party logistics providers with significant scale and experience in the space.
And here are some details about BlueGrace's proprietary BlueShip technology from the company's press release:
BlueShip's technology allows the creation of new shipments and executes price comparisons across multiple providers, as well as tracks deliveries and enables easy access to documentation. The core rating technology proactively identifies opportunities to alleviate cost and optimize LTL shipments. Users get real-time capacity and maintain control of carrier selection with transparent pricing and visibility to freight movements and shipment details. Analytics and reporting are also available through one platform.
The interplay between transportation management systems (TMS) and digital freight brokers / logistics service providers continues to evolve. Simply put, transportation management systems are no longer self-contained applications; TMS is becoming a dispersed set of services, most of them provided by a "hub solution" offered by a TMS vendor and others provided by external partners, like digital freight brokers and real-time freight visibility providers, that interface with the hub solution via web services.
What do you think? Post a comment and let me know.
And with that, have a happy weekend!
Song of the Week: "What You Say" by Cold War Kids