Talking Logistics: By the Numbers
As 2019 comes to an end, a quick thank you to all of our readers, followers, and sponsors for another great year of learning and conversation on Talking Logistics. The numbers speak for themselves:

49 episodes produced in 2019, totaling more than 1,200 minutes of conversations with thought leaders and newsmakers in the supply chain and logistics industry.


228 posts published on a wide range of timely and important industry topics, including the most comprehensive weekly news roundup in the industry and thought-provoking and insightful guest commentaries from our sponsors.


More than 254,800 followers on LinkedIn and Twitter combined, including CXOs, VPs, and Directors across many vertical industries and geographies.


177 podcasts on iTunes of our past episodes.


$75,414: the amount of money our Logistics Leaders for T1D Cure team raised in support of JDRF and its quest to turn Type 1 Diabetes into Type None. We broke last year's record by over $17,000!

Adelante Turning 10
Next year will mark the 10th anniversary of Adelante. It is a milestone we couldn't have achieved without the support of our clients, many of whom have worked with us from the very beginning. We are so grateful to our clients, past and present, as well as all of our subscribers and followers.

I am often asked, what is Adelante? Are you an analyst firm? A market research company? An industry publication? A charity?

Although we have elements of all four, we don't fit neatly into any single category. We are Uncommon. Trusted. Creative. Making a Difference.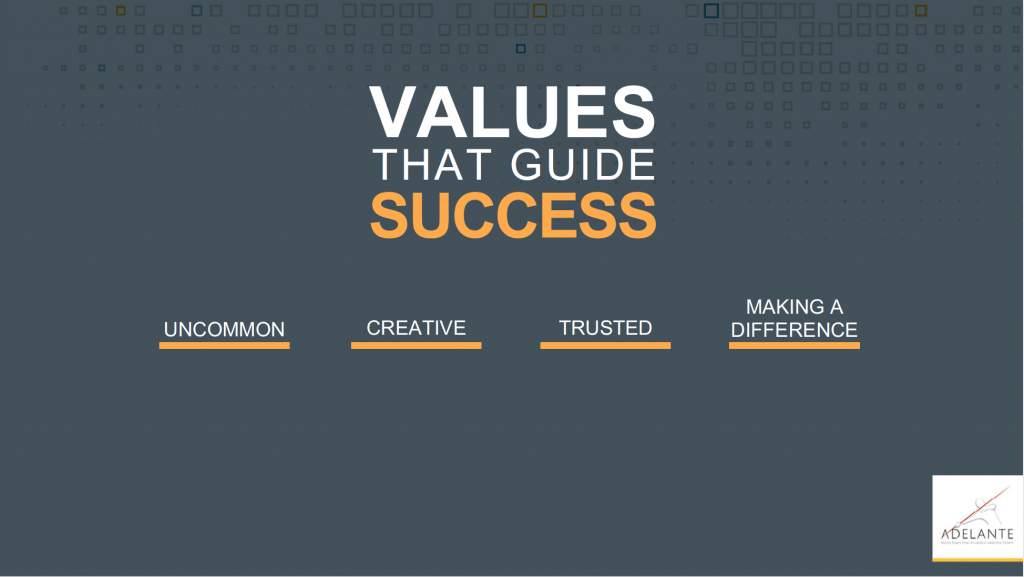 Indago: Research with Purpose
We are very excited for the year ahead as we look to grow and innovate our services, especially Indago, our market research community of supply chain and logistics practitioners from manufacturing, retail, and distribution companies. Indago members share practical knowledge and advice with each other in a trusted and confidential manner — while giving back to charitable causes like JDRF, American Logistics Aid Network, American Cancer Society, Feeding America, and Make-A-Wish.

We have completed 31 surveys to date and have donated almost $3,000 to charities! Our members are also providing us with great feedback, like this testimonial from a VP of Supply Chain at a Consumer Goods Company:

"When asked if I was interested in joining the Indago research community, I jumped at the opportunity based on the people involved. They have put together a group of peers across the industry to answer 2 to 3 question quick surveys weekly. I have a chance to benchmark best practices across the supply chain. At the end of the day, it doesn't really matter what you make or sell, it all follows the same path to the end customer. A few minutes of my Monday are spent answering questions that benefit the charity partner I have chosen. It is a very small time investment to make a difference in someone's life who will benefit from the charity. We also benefit by benchmarking our practices with those of the group."

If you're a supply chain or logistics practitioner, experience the Indago difference for yourself and JOIN TODAY! You can also follow Indago on LinkedIn.

In short, we have many exciting new things planned for 2020, so stay tuned! In the meantime, in case you missed them the first time around or want to watch/read them again, below are the most popular Talking Logistics posts we published this year and the new episodes we aired in Q4. I encourage you to share this list with your colleagues, as well students, young professionals, and others who might be interested in joining our growing community. They can sign up for our email and follow us on Twitter, Facebook, LinkedIn, YouTube, and iTunes to stay informed about upcoming episodes and to read our blog posts on industry trends and news.

Again, thank you for making this another fun and rewarding year on Talking Logistics. Happy Holidays and I wish you all continued health, happiness, and success in 2020.

Top 10 Talking Logistics Posts in 2019
Talking Logistics Video Episodes (Q4 2019)
Note: It's difficult for us to rank our video episodes because many of them are hosted by our sponsors and we don't have visibility to their views. Therefore, instead of a ranked list, below are the episodes we aired during the fourth quarter of 2019. For the rest of the episodes we aired this year, see our Q1 2019, Q2 2019, and Q3 2019 posts and our episode archive.

Note: Talking Logistics will be on holiday from December 23 – January 1. We will be back on January 2, refreshed and ready to go for another year of sharing insights and advice about what's happening in the world of supply chain and logistics. Until then, here's our final Song of the Week for 2019, "Superposition" by Young the Giant